PDP Threatens To Occupy Police Stations In Osun Over Arrest Of Members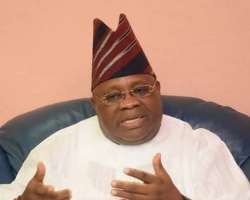 Osun State chapter of Peoples Democratic Party (PDP) has threatened to storm police stations across the state if the Inspector General of Police, Usman Baba Alkali, does not stop the ongoing arrest of its leaders ahead of the Saturday, March 18, 2023, state House of Assembly election.
The party, which maintained that it is the ruling party in the state and its members are law-abiding citizens, ruled out resorting to self-help while adding that if the harassment continues, it would mobilise and occupy all police posts in peaceful protests so that all their members in the state would be arrested.
This warning was contained in a statement signed by the Osun PDP caretaker chairman, Akindele Adekunle, on Sunday in Osogbo, the state capital.
The statement reads this, "Our leaders are being arrested in a bid to rig Saturday's election. We will resist any ploy to manipulate the polls. Osun people voted overwhelmingly for PDP in the last polls. They are ready to freely exercise their voting rights again. Arresting our leaders on Kangaroo charges is an attack on democracy and our fundamental human rights.
"We will not resort to self-help. We are law-abiding citizens and a ruling party in Osun State. But if this harassment of our members continues, we will mobilize and storm all police posts in Osun state in a peaceful protest. Let the IGP arrest all Osun PDP members.
"We call on the Inspector General of Police to stop serving the evil interest of the APC. The police boss has a sacred duty to be an impartial enforcer of the law, not an agent of one political party against the other. It is unacceptable for the IGP to take directives on who to arrest or detain from APC chieftains. This is a democracy, not a military dictatorship."
While wondering if winning the election in a free and fair poll was a sin, Akindele queried the reason why the IGP Baba Alkali was deliberately stoking the fire of political conflict in a peaceful state like Osun.
Osun PDP who called on the western embassies and international human rights organisations to intervene by calling the IGP to order notes that the conduct of the police in Osun State was threatening the peace and security of the state.
"PDP members are being pushed to the wall. We are Nigerians protected by the constitution. We will not surrender our rights. We put the IGP on notice that he will be responsible for any breakdown of law and order in the state. This illegal statewide arrest must stop," the statement concluded.