Governor Soludo Threatens Anambra Voters, Says Only APGA Winners Will Have Access To Him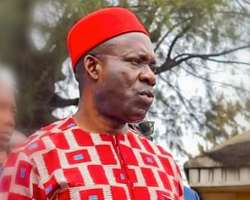 The Anambra State Governor, Prof. Charles Soludo, has warned members of his constituency against voting for any other political party except candidates of the All Progressives Grand Alliance (APGA).
The governor issued the warnings while addressing members of Igbo-Uwku/Aguata 2 State Constituency.
Governor Soludo stated that only winners who emerged from APGA will have access to him and also have the opportunity to give advice to him.
He said if residents vote for a candidate from another party other than APGA, such politician would only be entitled to a monthly salary, adding that candidates from other parties that emerge winners will lack the opportunity to provide infrastructure to their constituents.
In his words: "We would vote without looking at anyone's face, any person who I will work with must be an APGA. If you vote for another person and he wins and comes up to Awka, be assured he will be only collecting salaries. If he collects his salary, he will go home.
"Nobody in the House of Assembly builds roads; he does not build hospitals or schools because he does not have the money. I, the governor, am the only one that can do all those things. And it is only the person who is my friend and belongs to the same political party that will have access to me. It is only such a person that can advise me on those works that are to be done, hope you get the message properly.
"Yes, that is how it should be. It is only my own people that I will answer whenever he calls me on phone or talk to me, I will listen. If you bring another person from another party, we shall be paying him salaries only. That is how it will be, and he should be warned never to come near me asking me to do anything for his people. He should dare not."