Just In: Labour Party Deputy Governorship Candidate In Benue Sacked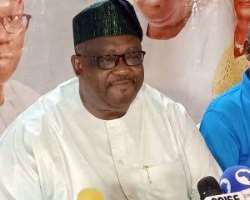 Barely few days to the governorship election, a Federal High Court in Abuja has sacked the deputy governorship candidate of the Labour Party in Benue State, Idu Onyiloyi.
The dismissal was pursuant to a suit marked FHC/ABJ/CS/1853/2022 which had LP, INEC and Onyiloyi listed as 1st to 3rd defendants respectively.
Delivering judgment on Wednesday in the suit instituted by Ochechi Adejor, Justice Ekwo held that Onyiloyi, having voluntarily withdrawn as deputy governorship candidate and deposed to an affidavit to that effect, ceased to hold the same status.
Justice Ekwo also declared the plaintiff, Dr Ochechi Godwin Adejor, as the new deputy governorship candidate of the party upon finding facts that Onyiloyi wrote the LP on the withdrawal of his candidacy and that he also gave the withdrawal legal backing with a Court affidavit as evidence of withdrawal.
The court issued an order stopping Onyiloyi from further parading himself as the Labour Party's Deputy Governorship Candidate in Benue while the LP was restrained from recognising Onyiloyi as its deputy governorship candidate.
The judge invoked sections 221, 222 of the 1999 Constitution and sections 29, 31, 32, 33 and 84 of the Electoral Act 2022 and declared that the LP should remove Onyiloyi and replace him with Adejor upon voluntary withdrawal.
The court also issued an order compelling INEC to publish the name of the plaintiff and another order of perpetual injunction restraining INEC from accepting any name other than that of the plaintiff as the Deputy Governorship Candidate.
Justice Ekwo also ordered the LP to immediately forward the name of Dr Ochechi Godwin Adejor, to INEC commission for publication as the lawful deputy governorship candidate.