CBN Confirms Acceptance Of Both Old And New Notes As Legal Tender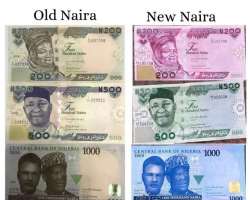 The Director of Communications of the Central Bank of Nigeria (CBN), Isa Abdulmumin, has confirmed that both the old and new naira notes are now legal tender.
He said the acceptance of the old banknotes followed the ruling of the Supreme Court last week.
Abdulmumin, who spoke to journalists on Tuesday, said banks have begun to issue both old and new notes to customers at their various Automated Teller Machines (ATMs) terminals and over the counter.
He noted that even though the CBN is yet to issue an official statement to that effect, Nigerians can now spend and collect both the old and new notes concurrently.
He added that the apex bank just wants to make life easy for Nigerians and has directed commercial banks to obey the supreme court ruling which extended the validity period of the old notes to the end of the year.
The CBN spokesman said: "Banks are paying old notes as well as new notes. They are all legal tender.
"Yes, the CBN has not issued an official statement on the issue. Anyone banks give to you, you can collect. We just want to make life easy for Nigerians."
Abdulmumin expressed concern about the continued rejection of the old notes by some traders and transporters.
The CBN spokesman said the old notes should not be rejected as they are still a valid means of exchange.
He added: "No. They can't reject it. It's all legal tender."