Naomi Campbell as a Witness Before The Special Court (For Sierra Leone) In The Hague (Belgium)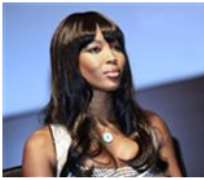 The British Supermodel Naomi Campbell is to testify Thursday as a witness before the Special Court for Sierra Leone in The Hague. The hearing of the models will clarify whether Liberia's former President Charles Taylor ever owned the so-called blood diamonds.
Charles Taylor had to answer to the "THE HAGUE" Tribunal in Belgium, for war crimes and crimes against humanity during the civil war in Sierra Leone (1991-2001). The indictment accuses Charles Taylor of rebels of the West African country to have received diamonds and delivered them for weapons.
Betty Akos : Hamburg/Germany