Presidency will not sack EFCC czar !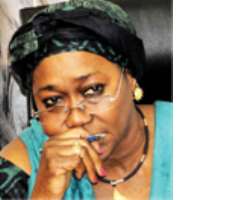 In contradiction of reports by certain section of the Nigerian media, Huhuonline.com can authoritatively say that President Goodluck Ebele Jonathan has not ordered the sack of Mrs. Farida Waziri, the incumbent chairman of the Economic and Financial Crimes Commission (EFCC). The Presidential Spokesperson, Ima Niboro has confirmed.
 
Asked about the one week stipulation reportedly given to his boss to sack the EFCC Czar, Mr. Chuks Akuna, media consultant to the Minister of Justice and Attorney General of Federation, in text message to huhuonline.com, said,   'It is not true. The powers of the HAGF are clearly spelt out in section 43 of EFCC Act. And this of course does not include the power to hire and fire the EFCC boss, which ultimately is the prerogative of Mr. President. In any case no administration, prepares to fire any appointee. Such is either fired or allowed to stay. Whoever, spun such a ludicrous tale should prove it. Mohammed Bello Adoke is not a meddlesome AG, who is going about seeking who to fire'.
The Contrived report   read:
' A presidential directive to remove her from her position has been communicated to the Attorney-General of the Federation and Minister of Justice, Mohammed Adoke'.
'The decision to sack Waziri, it was gathered, was not unconnected with pressures from foreign governments who accused her of not fighting corruption effectively'.
'The foreign interests recently forwarded a damaging dossier on the organisation and its officials to President Goodluck Jonathan'.. 'The foreign interest, threatened not to cooperate with the Commission and withhold financial support for it if the Presidency refused to remove Waziri as the EFCC boss'.
'On receiving the letter, President Jonathan reportedly forwarded it to the AGF and directed him to act within one week'.
'Investigations revealed that pressures were mounted on President Jonathan by the foreign governments on the report or they will withhold their support for the fight against corruption in the country'.
'The dossier sent to President Jonathan shows how an EFCC official bought 250,000 Pounds house in London and paid with hard currency'.
'Presidency officials in Aso Rock Abuja, confirmed that two crack detectives are currently being considered to take over from Waziri'.
'Those being considered are Mr. Tunde Ogunshakin and Ibrahim Lamorde. Both are former heads of operations of the Commission'.
'The two officials are currently being screened by security officials to determine the one best suited for the job'. Nevertheless, sources who elected anonymity revealed that the fabricated report was sponsored by Erastus Akingbola, the disgraced former CEO of Intercontinental Bank, who recently returned from a self-imposed exile in Britain.