THERE'S NOTHING LIKE ONE NORTH – COL. DUNGS (RTD), PLATEAU SENATORIAL ASPIRANT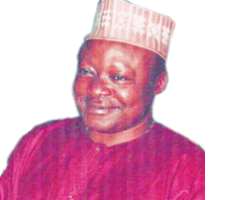 Dungs
He was a governorship aspirant in 2007 but when Jonah Jang got the party's ticket, he was of the view that it was better to give support to those in power than to be a clog in their wheel progress. On many occasions, he said he would prefer to be at the background and see that things are done right than go for elective post. Suddenly, this position changed. The former governor of Delta State and an elder in Plateau State, Col. David Dungs(rtd) is back in politics, seeking the Senate seat of Plateau North.
He disclosed to Daily Sun how he came nto the race again, unresolved issues in Plateau State and the nation at large.
Excerpts:
I made up my mind after the Dogon Na Hauwa incident. I have been going to Abuja and watching with keen interest how things were done there. I made up my mind that we need quality representation and experience at that level. People have been saying they want automatic ticket, but of the people representing Plateau State at that level, only one was outstanding.
The rest seem to have been sleeping; either because of intimidation or they are not being listened to. It may not be their fault, because they do not belong to the groups we have in the National Assembly. People there are professors, ex-governors, ex-ministers etc. Maybe it is inferiority complex or fear. There was an incident where an ex-governor shouted on one of our Senators. He just went quietly and sat down. That is intimidation. I feel in Plateau State, we need quality representation at that level. That is why I thought I belong to the set of those who had held posts in the past. If they make noise, I will also make noise to defend my people. Presently, we have someone who also belongs to that calibre in the Assembly, but he has not actually been with the people.
He seems to be anti-people. He seems to be aiding the people who want to see Plateau disintegrate; who do not want to bring progress to the state. He is doing this because he has personal quarrel with the governor. What he is doing is affecting the state in general and not only the governor.
After the Dogon Na Hauwa incident, I was completely disappointed about how they managed it. Not just myself but we, the original settlers on the Plateau. I am not talking about those that are from here but all those that settled on the Plateau. We were completely disappointed about how they handled the issue. We made representation on our stand to Abuja after the incident. We need to prove that there is nothing like one North.
The people of the northwest have always been having interest in what goes on in Plateau State; especially as it affects Jos. Right from the Dan-Fodio time to the Sardauna's time and till date, the problem had always been that of the ownership of Jos. Most of the people who came in to Plateau State during the mining period were from that region, and they have always had pleasure in controlling Jos. They have their people who have settled here and also want to be in the forefront in knowing what is happening in the state.
They want to whip Plateau into one North and Plateau, since time immemorial, and even during the Jihad days was never conquered. It was only a few towns like Kanam and Wase they managed to enter. The jihadists did not conquer the rest of Plateau. It is the modern form of colonialism they wanted to have on Plateau; which the Plateau people are resisting especially with the literacy level of today. They must realize that there are 19 northern states and no longer one North. They said it since 1960 and as it was published in the Patriots of  18th October that year  and carried in one of the dailies last year, that they will continue to use the northern minorities as willing tools to achieve what they want. But when it comes to sharing the dividends of that power, they do not work along with those minorities of the north. It is a long struggle we have gone through. We have continued to be used as willing tools.
The Willis commission by the queen of England in 1966 tried to address this plight of the minorities but the North continued to scuttle it. It was only the Western region that let go the midwest. The core North refused to give autonomy to the northern minorities and so also the eastern region which refused to give their minorities that autonomy. This is the problem still affecting Plateau State. It dates back to those days. The younger ones still want to achieve what the older ones tried to achieve; making all of us to believe that we are one North.
As most of us speak Hausa, they feel the middle belt are subservient to the North and this is not true. We have come of age. That statement credited to Sardauna still continues to be relevant today. In the last administration of late Yar'Adua, not many people from the middle belt enjoyed good positions at the federal level; be it in the financial or oil sub-sector in the agricultural sub-sector of the economy.
If they say we are one North, why didn't they carry the remaining of the North,the northern minorities along? This is what has been happening on, on, and on.
National Assembly
From October 1 1999 to date, what we have in place is that people go into the National Assembly to make wealth for themselves and not to represent the people. They look for people's votes and when they get there, they separate themselves from the people; look at themselves that they have arrived; forgetting that it is the people that made them to be there. There is a big river between them and the people. That is why I want to show people that if you are pushed there to represent the people very well; give to them what is theirs. Constituency allowances are rights of the people.
But what most of them have been doing is to pocket the fund and not go back to the constituency. Some of them say they spent their monies campaigning. I believe that people should be allowed to realize their investments with their votes in their representatives. We must fight there to better the lives of our people and not for our own personal gains. That is what is gingering me to look for this position to go to the senate; to represent my people from this zone and to get federal presence in my state.
Even though the function of the federal legislators is to make laws, the second aspect is for them to lobby for projects and other things for their constituencies. As representatives of their people, they know the deficiencies of the people, and should be able to meet them. The people sent them there in the first place to fight for their rights and  for their share of that national cake. We have seen as this was being done in other states with the assistance of executives. But there are some states where nothing had happened; either their representatives do not belong to the inner class or the class of those who had been in recognizable positions in the past. There seem to be a group of people taking all the goodies to their area out those that do not have the powers to convince others to agree with them. This is why I feel there must be a change for Plateau, and that is why I want to go there. I believe if there are changes in my own constituency, it would be the same in other constituencies in the state.
Plateau PDP is intact
The PDP in Plateau State is not in disarray. What we have are just some disgruntled members of the party. We are one united family, but we have some few people who for their own parochial reasons want to destabilize the state. This is because they feel they should be the one in control and not the present administration. Some of them saw that the governor has been performing and are not happy probably because in their time they were not performing. So, they feel they should pull him down. It is just the problem of pull-him-down syndrome. But we have been appealing to them to come back and associate with people in the state and not to destabilize it. Will they say they are happy when we are not getting our due from the federal government? Since 1999, when Dariye was in government, they did everything possible to frustrate Federal Government's investment in the state. The government has changed, we now have Jonah Jang, who is doing excellently well, and they still want to pull him down. They go to the federal level to stop any federal project coming to the state. Are they helping the state? They are doing this just for their own selfish reason.  PDP in Plateau is one united family. We only appeal to the people who feel aggrieved to come back so that we can move the state forward.
There won't be any problem at the primaries. PDP will scale through. It is only few people who are disgruntled and they will not be able to scuttle the election by God's grace. This government believes in God and they believe God will see them through and see all of us through. They should join hands and lets see the state through; otherwise if they want to go to other parties they are free to go. At the last NEC meeting, the party and the Federal Government made it clear that everybody must go back and work with their governors in harmony. What is happening in government is selfish interest and nothing more. It is time Plateau people work with this government that is doing pretty well in order to take the state to greater height and not to be fighting the government or to go to Abuja to pass false information. I think the Federal Government now understands. Since the coming of Goodluck Jonathan, things have been improving day in day out on the Plateau. Violence has cooled down. We now understand that it is not good to kill people for nothing. We believe that people will key into the instruction that was given at the last NEC meeting in good faith, so that we can have stability across the country.
Many interests
The more people we have, the better for us in the northern
zone. I am somebody who believes in God, and I believe that God does not come from heaven to do things, but uses people. What I am doing is to sell myself to the people and if they feel that I am the material to send there, let it be. If it is otherwise, let it be. One commitment that I have is to continue to support whatever government is in place on the Plateau. I did it during Dariye's time, during Botmang and now during the time of Jang. With the experience I have gathered as a former military governor, I know it is my duty to support in whatever way possible. Once a governor is chosen, he becomes the governor of all; irrespective of party. I will continue to sell myself to the electorate until the time of primaries.
We will resist the breaking of the Berom people
The people make representation about the creation of more
federal constituencies in the state. But what was sent to the National Assembl is a negation of all the good intentions of the people. All over the world, there are big and small states. Whether you are in only two local governments, you will have three senatorial districts. Why do you want to break a people and take them from one zone to another without their own input. Their own input was leave us the way we are but give us more constituencies; more representations at House of Representatives and state Assemblies but not Senate because there, whether you are small or big, you can only have three. They are supposed to work on the State Assemblies and federal representatives and not the Senate.
It is in bad faith that they should remove Riyom and Barakin Ladi Local Governments and attach them to the central zone. They removed Kanam from central to southern zone. What is their aim? We believe that it is to break the Beroms into pieces so that the Berom nation is not together and they cannot look for probably the Senate and get it. One of the conditions of Independent National Electoral Commission (INEC) is that the people must be homogenous and be together. Why do some people want to break that? We were told some people from Plateau, to soothe some parochial interest manipulated it in INEC. These are the people that have the influence of the North-West to scuttle the peace of the Plateau to have their interest on Jos in particular. They want to break the Beroms so that they do not have influence in Jos. We do not agree with what they have proposed. We will never agree and will never take it. It has to be revisited. Representation has been made to the National Assembly and to INEC.
Consultations are ongoing to make sure all those things are reversed and looked into again.