Talks Are Ongoing For Kwankwaso To Step Down For Atiku– Northern Elders Forum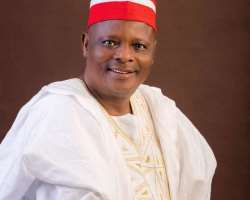 The Northern Elders Forum has expressed its optimism that the presidential candi­date of the New Nigeria Peoples Party (NNPP), Rabiu Kwankwaso will step down from the 2023 presidential race.
The leaders are reportedly hopeful that Kwankwaso will withdraw from the race to support the presidential candidate of the Peoples Democratic Party (PDP), Atiku Abubakar.
The Nigerian Voice understands Kwankwaso has always vowed not to step down from the race, but slug it out with other presidential candidates.
The former Governor of Kano State in 2022, during a visit to Lagos, when asked if he would step down said, "We are not merging with any political par­ty, and anybody thinking I am stepping down must be mis­chievous. We have our names already approved by INEC to contest. NNPP is all out to win the 2023 general elections. No se­rious person should now think of anyone of us stepping down at this stage. I am ready for all candidates for debates."
Also in his speech at Chatham, Kwankwaso said he considers withdrawing if he sees any candidate better than him in terms of ex­perience.
He said, "What I told them is what I will tell you. If anybody wants Kwankwaso to withdraw, just bring criteria and select the best. Anytime I have a better candidate, I am ready to talk to him."
Meanwhile, a top member of the Northern Elders Forum (NEF) who spoke to newsmen, said leaders in the region are hoping that Kwankwaso will step down for Atiku.
The NEF member said the leaders saw the need to work together, especially with the gang-up against Atiku by the PDP G-5.
The NEF chieftain who spoke on condition of anonymity said eminent retired generals, religious leaders and traditional rulers are talking to Kwankwaso to collapse his structure for Atiku.
He claimed that if the North can present a consensus can­didate and the Southern votes are shared between the candidate of the All Progressives Congress (APC), Bola Tinubu and Labour Party (LP) flagbearer, Peter Obi, Atiku will easily coast home to victory.
He said, "Yes, I can confirm that talks are ongoing. Kwankwaso keeps insisting that he will not step down but we are optimistic that he will listen to the voice of reason, especially from our elder statesmen and royal fathers from the North.
"From what we have seen so far, the best we can do in the North is to present a consensus candidate. With the popularity of Kwanwaso and Atiku in the North, we believe the presiden­tial election will be a done deal because Atiku already com­mands appreciable followership in the South. Kwankwaso's sup­porters are also in the South too.
"If we can unite in the North by fielding a sole presidential candidate, then the election is as good as won because the Southern presidential candi­dates will divide the Southern votes. Atiku will also get votes in the South."