Goodseed Daily Devotional 29th January 2023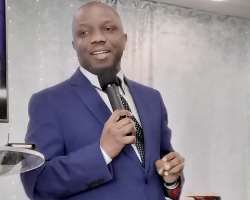 Apostle George Amadi (Lead Pastor: Goodnews Bible Church, London)
Topic: KILL THE ARRIVAL MENTALITY
SCRIPTURE: Not as though I had already attained, either were already perfect: but I follow after, if that I apprehend that for which also I am apprehended of Christ Jesus. PHILIPPIANS 3:12
Sometime ago, my wife and I travelled to Dubai to celebrate my wife's birthday this was our very first visit to Dubai.
So, in the course of that visit We decided to explore a reasonable portion of Dubai and in the process, I learnt a lot about Dubai as a country.
Not too long ago, Dubai was struggling as a Third World nation. Dubai was far behind Most countries of the world including some African countries in terms of development.
Presently, going by what I saw while in Dubai and the records available, there are countries that cannot be compared to Dubai in terms of development. The economy of Dubai and the UAE as a whole is becoming a threat to the economy of Some developed countries because of the rapidity of its growth.
The amazing thing is that in spite of all this growth, the Head of Dubai told the people of Dubai that every one of them should still see themselves like they are a Third World nation and that the mentality that they have arrived should not sink into their heads. What a mentality! No wonder they are where they are today and still developing with speed.
Beloved, arriving too soon is arriving too small. When you reach the peak, you are set for the pit. The reason for the abortion of several destinies is the decision to conform to premature contentment. It does not matter your current level in life, as long as you are alive, there is still another level you can still attain.
Beloved, Always stretch for more until you achieve your goal in life.
PRAYER: Lord, I ask that You deliver me from premature contentment. I receive the grace to always stretch for more, Lord, in Jesus' Name.
Goodseed Daily Devotional is the publication of Apostle George Amadi- Senior Pastor Goodnews Bible Church London. If you are in the London area do worship with us at 2nd Floor Unit 4 Westmoreland House Scrubs Lane White City NW10 6RE