Osun Election: Tribunal Sacks Gov. Adeleke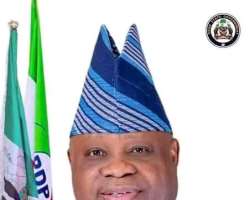 The Osun State Governorship Election Petition Tribunal sitting in Osogbo has declared former governor Adegboyega Oyetola as the winner of the July 16, 2022 governorship election.
Oyetola was declared winner in a judgement which was delivered on Friday at the premises of the High Court in Osogbo.
In his judgement, Chairman of the tribunal, Justice Tertsea Kume held that the election was marred by over-voting and consequently deducted the number of over-voting presented by Oyetola and APC.
The court said that having deducted the over-voting figure, Oyetola scored 314,921 while Ademola gathered 290,266.
According to the tribunal the ground of the petition before it are three. They are that Adeleke was not qualified to contest based on his academic qualifications.
Others are the Adeleke was not elected by majority of the electorates and that the election conducted by the Independent National Electoral Commission was not in compliance with the provisions of the Electoral Act.
Justice Kume said the petitioners were challenging results of election in ten local government areas, which are Ede North, Ede South, Egbedore, Ejigbo, Ila, Ilesa west, Irepodun, Obokun, Olorunda and Osogbo.
Adeleke in his response on 23rd day of August denied the allegations levelled against him by the APC and Oyetola.
He added that the petitioners pointed the attention of the tribunal to the secondary school certificate of Adeleke which carries 1981 while Osun State was not in existence.
On the forgery, the court said Adeleke's other qualifications have qualified him to contest for the post of Governor.
The tribunal referred to the statement of admission of "seemingly over-voting" made by an INEC official who appeared before the tribunal as respondent's witness.
He said the defence by the respondents on the over-voting are unreliable and he blamed the INEC for producing contradictory results, stating that it put question mark on the readiness of the Commision to conduct credible election.
The Tribunal ordered INEC to withdraw Certificate of Returns issued to Adeleke.