Goodseed Daily Devotional 267h January 2023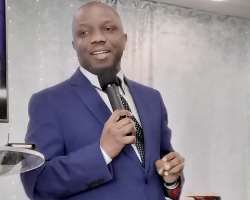 Apostle George Amadi (Lead Pastor: Goodnews Bible Church, London)
Topic: FINANCIAL INTEGRITY – A KEY TO ELEVATION.
SCRIPTURE: I have coveted no man's silver, or gold, or apparel.
Acts 20:33
It has been established that integrity is key to elevation in life.
Examples abound in scripture of people who were lifted in life on the platform of integrity. Daniel was one man in scripture who upheld financial integrity and as a result, he was lifted.
Daniel 6:3-4 says:
Then this Daniel was preferred above the presidents and princes, because an excellent spirit was in him; and the king thought to set him over the whole realm. Then the presidents and princes sought to find occasion against Daniel concerning the kingdom; but they could find none occasion nor fault; forasmuch as he was faithful, neither was there any error or fault found in him.
This was the secret of Daniel's lifting.
Please note this: Integrity does not demote a person; rather, it promotes a person. Uprightness does not decrease; rather, it increases. Integrity is the twin of prosperity; holiness is the twin of wealth. All the people who were lifted by God and empowered financially were people that had character uprightness.
Paul the Apostle was another person who upheld financial uprightness.
In Acts 20:33, Paul said:
I have coveted no man's silver, or gold, or apparel.
This means that he did not take whatever was not his, neither did he covet it. He lived a financially upright life and as a result, he said in Philippians 4:19:
But my God shall supply all your need according to his riches in glory by Christ Jesus.
Paul had everything he needed; he lacked nothing. This was the testimony of the man who coveted nobody's silver, gold or apparel.
Beloved, refuse to be destroyed by covetousness; Ask God to bless you financially.
1. Refuse to be involved in shady financial deals.
2. Maintain a financially upright life.
PRAYER: Lord, I ask that You deliver me from every form of shady financial operation. I receive the grace to maintain financial integrity, In Jesus' Name.
FOR FURTHER UNDERSTANDING, GET THIS MESSAGE: THE TRAGEDY OF EVIL MONEY.
Goodseed Daily Devotional is the publication of Apostle George Amadi- Senior Pastor Goodnews Bible Church London. If you are in the London area do worship with us at 2nd Floor Unit 4 Westmoreland House Scrubs Lane White City NW10 6RE