PEACEKEEPING: JONATHAN ANGRY OVER LOSS OF SOLDIERS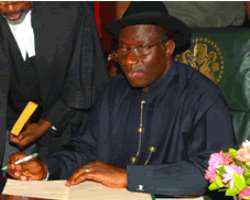 President Goodluck
President Goodluck Ebele Jonathan yesterday warned that Nigeria will no longer tolerate a situation where its soldiers sent on international peacekeeping operations are brutally murdered by militia groups in those countries. He called on the United Nations (UN), to as a matter of urgency change the rules of engagement if Nigerian soldiers must participate in peace support operations.
The president who was speaking while declaring open a two-day international seminar on peace support operations in Abuja organized by the ministry of defence, however, assured that Nigeria would continue to play active role in global peace and security initiatives by participating in bilateral and multilateral peace support but said, 'we shall however, ensure that our present and future participation are guided by our human and material resources sacrifices.'
A visibly angry Jonathan lamented the huge number of casualties suffered by the Nigerian military, whose over 2,000 of its soldiers have been brutally murdered while on peace support operations across the world in their bid to instil peace and security.
He said: 'I have clearly informed the Chief of Defence Staff that as the president of Nigeria, I wouldn't want to lose one soldier carelessly. And for that reason, the United Nations also needs to change the rules of engagement if Nigerian soldiers must be involved in these operations. The situation where militia groups will ambush law-abiding international teams that go to their countries to ensure that they live in peace because they want to exhibit unnecessary gallantry or bravado and kill them carelessly is totally unacceptable and I wouldn't want to hear that we lost soldiers through that means. I know the job is risky but then, it is not meant to commit suicide because Nigeria will take that one very, very seriously.' President Jonathan also said it was high time the United Nations took a stand to punish developed nations that manufacture arms and ammunitions and make Africa their dumping ground.
He said the presence of these illegal weapons which had virtually littered the entire African region was responsible for the under development of the region as well as the incessant crisis that have continued to rock Africa as a whole. The president said the dumping of these small arms and ammunitions have equally resulted in lots of criminal activities, militia groups and all forms of conflicts because people have free access to these weapons.
While commending members of the Nigerian armed forces for the sacrifices they have made in peace support operations which he said had been recognized globally and earned the country a good name and enhancing its status in the international arena, president Jonathan charged them to re-address, adopt and develop their professional capabilities in order to retain their relevance and effectiveness in the discharge of their role of defending the territorial integrity of Nigeria.
The president, who said he had directed the minister of defence to review the procurement process for peace support operations to ensure strict compliance with the United Nations standard, announced that his administration was fully committed to establishing and maintaining a firm defence posture to cope with emerging internal and external threats and efforts were ongoing to expand the military force structure to meet up with manpower requirement and promote a transparent high defence management.
He said government was aware of the enormous sacrifices the nation had made in terms of human and material resources for its participation in peace support operations and determined to ensure that these values are attained for these sacrifices.
To achieve this, he said the services would be re-equipped to enhance their operational capabilities while government would do everything to ensure the provision of adequate contingent and equipment for Nigerian troops. President Jonathan commended the Ministry of Defence for organizing the conference and expressed the hope that the seminar would provide the platform for cross-fertilization of ideas among stakeholders that would ultimately lead to the development of policies that would guide Nigeria's participation in peace support operations in the future.
Earlier in his address, the Defence Minister, Mr. Adetokunbo Kayode, said the seminar was aimed at defining Nigeria's strategic objectives and calculation in participation in peace support operations, determining values for its human and resource sacrifices, developing framework for attainment of strategic benefits and to develop a policy for Nigeria's participation in peace support operations. Kayode said these objectives were strategic and crucial in redefining Nigeria's national interest and policy for participation in peace support operations.