Eleazar Ikonne: INEC Gives PDP 14 Days Ultimatum To Conduct Fresh Primary Election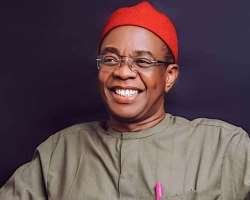 The Independent National Electoral Commission (INEC) has directed the Peoples Democratic Party (PDP) to conduct a fresh primary election in the next 14 days to replace its Abia State governorship candidate, Professor Uche Eleazar Ikonne.
Recall Ikonne's son, Dr Uche, had earlier announced the death of his father at the National Hospital, Abuja.
He said the governorship candidate passed away in the early hours of Wednesday at the National Hospital in Abuja after a brief illness.
The statement from Ikonne's family added he died of "multiple cardiac arrests".
The son added that the family would make more details about the passing away known after necessary deliberations.
Reacting to Ikonne's INEC National Commissioner on Voter Education and Publicity, Festus Okoye, noted that the deputy governorship candidate of the party could not automatically assume the position of the gubernatorial candidate since the election was yet to start.
Okoye stated that the party has the opportunity of conducting a fresh primary within 14 days, according to the dictates of the Electoral Act.
Okoye said the 14 days started from the day Ikonne died.
The national commissioner stated, "He (the deputy governorship candidate) can only fly the flag if election has commenced. They have to hold a fresh primary within 14 days of the death and then they submit to INEC."