Goodseed Daily Devotional 26th January 2023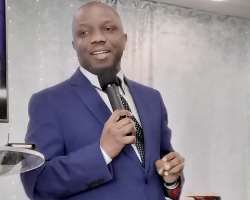 Apostle George Amadi (Lead Pastor: Goodnews Bible Church, London)
Topic: HOW TO MOVE MOUNTAINS
SCRIPTURE: And Jesus said unto them, Because of your unbelief: for verily I say unto you, If ye have faith as a grain of mustard seed, ye shall say unto this mountain, Remove hence to yonder place; and it shall remove; and nothing shall be impossible unto you.
Matthew 17:20
In the journey of life, we are confronted with one degree of mountainous situation of life or the other. But our anchor scripture makes it clear that every mountain is movable.
Now, what does a mountain represent? What is a mountain?
1. Mountains are age-long strongholds (Matthew 17:20)
In the physical, we see mountains as established strongholds which have been there for ages.
Mountains can be likened to generational spells and curses that have lasted for generations.
ii. Mountains are progress- frustrating obstacles (Matthew 17:20)
These are obstacles that stand in the way of speed, progress and acceleration in life. Anything that prevents you from moving as fast as you should is a mountain.
At times, during Road constructions, when a mountain is difficult to break, a road is diverted around it and then the road continues after the diversion, thereby prolonging the journey.
This implies that, whatever prolongs life's journey is a mountain. Whatever is a cause of delay and stagnation is a mountain. Whatever is preventing you from moving at the pace that you are meant to move in life is a mountain.
From our anchor scripture, one way of commanding and moving your mountain is speaking to it. Speak to your mountain. Command your mountain to move by the power of Word and it shall obey you.
By the apostolic and prophetic mantle of fire on my life, I command every mountain, in your life, every age-long stronghold and spell, every curse and progress-frustrating obstacle in your life, to break in Jesus' Name.
Beloved,
1. Identify the mountains in your life.
2. command the mountains to move by speaking to them.
PRAYER: I decree that every mountain in my life; every age-long stronghold, spell, curse and progress-frustrating obstacle in my life is broken, in Jesus' Name.
Goodseed Daily Devotional is the publication of Apostle George Amadi- Senior Pastor Goodnews Bible Church London. If you are in the London area do worship with us at 2nd Floor Unit 4 Westmoreland House Scrubs Lane White City NW10 6RE