ABIA LAWMAKERS IMPEACH DEP GOV 48 HOURS AFTER RESIGNATION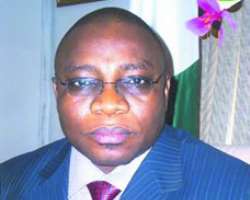 Deputy Governor, Comrade Chris Alozie Akomas
Inspite of his resignation over the weekend, the Abia State House of Assembly has gone ahead to impeach the Deputy Governor, Comrade Chris Alozie Akomas. But in a swift reaction to the news of his impeachment, Akomas dismissed the action of the House, describing it as 'medicine after death.'
He said 'it was not only unconstitutional but null and void,' describing it further as 'useless vendetta that is not allowed in law.' The House at its plenary sitting received the report of the investigative panel set up by the Chief Judge of the state, Justice Sunday Imo, on the directive of the House, to probe six-point allegation of gross misconduct it leveled against the deputy governor.
The Speaker, Hon. Agwu U. Agwu said that the panel submitted a 25-page report after winding up its sitting and referred members to page 24 of the report where he said that the allegation bordering on alleged amorous relationship between Akomas and his his staff was established.
He however was silent on other allegations, even though there was shout of 'he is guilty of all' by some lawmakers.
Based on this, Agwu announced that 'the deputy governor, Comrade Chris Akomas stands removed. The clerk is to communicate the impeachment the governor,' he said.
He said further that the House acted under the guidance of Section 188[9] of the 1999 Constitution.
Reacting to the action of the House, Counsel to Akomas , Barrister Obinna Nkume described it as 'a case of legislative recklessness which is not allowed in law. it is a case of lawlessness from a body that is supposed to make laws'.
'The deputy governor duly resigned 48 hours before the purported impeachment. The letter of resignation was served on the speaker and all the members of the House of Assembly and the Chief Judge of the state. We have an endorsement of the receipt, it is very clear that all of duly received the letter. It is a useless vendetta which is not allowed in law. It is not only unconstitutional but null and void', Nkume said.
Speaking on the way forward, he said: 'The way forward is already the way forward before the belated exercise. The House already knew that the deputy governor had resigned by communicating to the governor and the Speaker, all the members , the Chief Judge. He submitted it before the conclusion of the sitting of the panel. So it is medicine after death.
He said further that 'the whole exercise [panel sitting] was a kangaroo that did not intend to give the former deputy governor fair hearing. The constitution gives the panel three months to sit. But they gave us three days to present 25 witnesses. Even before that the former deputy governor filed a suit against the Chief Judge not to set up the panel and against the House of Assembly not to commence the impeachment proceeding. I have a certified true copy [CTC] of the suits,' the Counsel explained.