Abia PDP Governorship Candidate, Prof. Eleazer Uche Ikonne Dies In Abuja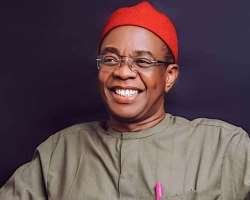 There are indications that the gubernatorial candidate of Peoples Democratic Party (PDP) in Abia State, Prof. Eleazer Uche Ikonne has passed on.
According to reports, the late flagbearer of PDP in Abia State has not been seen in public since he took ill.
In a recent publication by this platform: www.thenigerianvoice.com/news/316385/governor-okezie-ikpeazu-confirms-the-health-status-of-pdp-gu.html , the Abia State governor, Dr Okezie Ikpeazu had assured Abians that the health of Prof. Ikonne was greatly improving and he might resume his campaign. The governor narrated the incident leading to the sudden illness of Ikonne while speaking in a local radio programme, monitored by newsmen in Umuahia on Monday.
The governor who also said that Ikonne was "recovering gradually and progressively", recalled that Ikonne attended some rallies organised by the PDP in Abia, including the Nov. 24, 2022, launch of the party's state-wide campaign at the Umuahia Township Stadium.
Further speaking, he said Ikonne left the stadium for a gala night, organised in honour of the G-5 Governors in his (Ikpeazu) Umuobiakwa country home in Obingwa, "where he managed to give a speech and then he took ill".
"It is unfortunate that he is lately indisposed but I want to report some progress and the progress is that Ikonne is recovering gradually and progressively.
"He has left the hospital and is going through convalescence.
"I am sure that he will be strong enough in the future to join," the governor said.
Urging the state residents to keep hope alive, Governor Ikpeazu assured them that Ikonne would soon bounce back to the political space.
He argued that his absence from the political space this time "will not define the progress of the campaigns or agenda of PDP in the state.
"It might be the wish of detractors that Ikonne's absence will linger," he said.
He recalled that when he was ill himself, "permutations changed and people were allocating positions to themselves.
"I'm sure they even appropriated my wife to themselves," the governor said.
It would be recalled that speculations about Ikonne's health challenge became rife, following his sudden disappearance from public arena, including PDP events.
Meanwhile, Ikpeazu has assured the people that no other party has the capacity to displace PDP in the state.
He said the "PDP is very very powerful" in Abia and there is no other party that will be compared with it in terms of strength.
He said, "Some of them may have supporters in one or two local governments but they cannot put 100 people each across Abia."