CABAL, GODFATHERS IN PDP TO GO NEXT MONTH – NWODO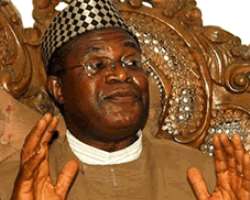 Dr. Okwesilieze Nwodo
National Chairman of the Peoples Democratic Party(PDP), Dr. Okwesilieze Nwodo, took his message of change in the party several octaves high on Sunday night when he threatened to disgrace those who still bring 'Ghana-must-go bags' to him. He also warned PDP governors and other aspirants for political offices to stop visiting him in his house.
He spoke to an elite gathering of party chieftains and editors in Lagos on his 40th day anniversary in office.
Nwodo, who was agitated, spoke with revolutionary fervour. He said: 'In spite of my directives on my inaugural day that people should not bring 'Ghana-must-go' bags to our office, they are still doing that. Anyone, who tries it again, I'll disgrace him publicly.
'I have told our governors not to come to my house. If they want to see me, let them come to the office. Aspirants should not come again to the secretariat. Let them go and campaign, win the people's hearts. Our primary elections'll be transparent. You don't need to see anybody, and nobody will change your result,' he said.
Unveiling his new agenda for change, Nwodo, who was National Secretary of the party for three years, said a mini-convention is being planned for next month to give bite to the new vision and 'remove the last vestiges of the cabal' that has made it impossible for the best materials to fly the banner of the party.
He regretted that a few people have held the party and country to ransom over the years, despite the lofty dreams of the founding fathers.
Affirming his burning desire to get the party back on track in the best traditions of democracy, he spoke of far-reaching plans to halt the image of a 'winning machine' which it has earned for itself, saying: 'We won elections, but not the hearts of the people.
'We now want to win their hearts - no more a winning machine, and running civilian dictatorship.'
He said the envisaged reforms would be all-encompassing, beginning from the national secretariat with the soul aim of re-inventing the PDP.
'We want people to know the meaning of the colours of the party, its manifestos, and the umbrella symbol.
'We chose the colour white because this country has seen blood through colonialism and civil war. We want peace. We chose red because of the sacrifice of our leaders past, who fought and died for its unity.'
He warned that those basking in the magic of godfatherism, or use of national might to write results for them have missed it; advising all political office aspirants to work hard, campaign and win.
He lamented that the dream of making Nigeria a referral centre on health matters conceived in 1998 was aborted.
On the primacy of the party manifestos in the new scheme of things, Nwodo warned that nobody will fly the party's banner again without reading and comprehending its manifestos.
'This is the covenant we have with the people. Time has gone when all those things happened. All they had was a mandate to line their pockets, to remain in office at whatever cost, and to settle their godfathers.
'We are working with experts to reform and update our manifestos, to make it workable. We have to make a change. There's nothing absolutely impossible to do in this country. PDP has resolved to call upon courageous men and women, who can do it.'
Nwodo said plans were under way to embark on aggressive membership drive and on-line registration of faithful to advance the goals of inclusiveness and independence.
He said, 'because elections were no longer competitive, attention was focused on how to get into the cabal and share the resources of our nation.
'No one can run this party anymore as a personal property, choosing, who to belong to the party and who will not.'
He said the membership registration fee of N1,200 and 5 per cent of the salaries of office holders were now compulsory to accelerate its financial leverage.
'Financial independence of the party will make it impossible for some people to control it. He who pays the piper dictates the tune. We will finance our candidates to a reasonable extent. We don't want interferences by governments and moneybags.' Nwodo noted that the proposed constitution amendment next month will outlaw thuggery with a penalty of instant disqualification for aspirants found culpable.
He said that since President Goodluck Jonathan has vowed to deliver credible, free and fair elections next year, no stone would be left unturned in achieving it.
'The culture of indignity must go. If people do it elsewhere, why can't we do it?
The slogan 'power' had been cornered by godfathers and godmothers.'
He appealed to the media to assist in the new drive for a decent democratic culture, vowing to be willing to pay the supreme sacrifice in its pursuit.
'I took an oath in my church in Enugu before the blessed sacrament that a mustard seed must die for a new tree to grow. I offer my life, so that we can have great men to lead this country.'