Fire Outbreak Guts Raw Material Warehouse In Oyo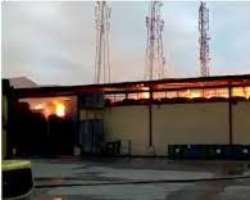 A fire outbreak has reportedly gutted a raw material warehouse located in Oluyole Industrial Estate in Ibadan, Oyo State, in early hours of Wednesday.
It was learnt that the affected warehouse belonged to Sumal Foods Limited.
The Nigerian Voice also recalls that a fire incident also occured and gutted the second floor of Ezenwa Plaza, opposite Eke Awka Market, Anambra State late Tuesday evening.
According to reports, the fire was caused by a power surge from one of the shops in the plaza, burning down goods worth thousands of Naira.
The inferno reportedly was terrifying due to the combustible nature of phones, phone batteries and other accessories that were sold at the plaza.
The state fire service chief, Martin Agbili, confirmed the incident to reporters on Wednesday morning stating that the fire service responded to the distress call immediately after it was alerted to the incident.
"Immediately, we deployed our fire truck and brave firefighters in the scene of the fire. We were able to extinguish the fire. The fire incident which emanated from one of the shops was caused by suspected power surge.
"Only that shop was badly burnt because of combustible nature of phones, phone batteries and other phone accessories sold there. The fire also affected some of the roofing sheets of that building.
"We are extending our gratitude to those who called us in time and those helped in combating the fire.
"Please always switch off all electrical and electronic appliances when not in use to avoid power surge," Agbili was quoted saying.