Goodseed Daily Devotional 25th January 2023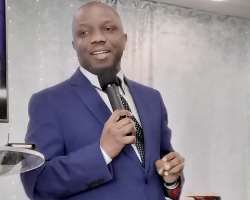 Apostle George Amadi (Lead Pastor: Goodnews Bible Church, London)
Topic: WRONG REASONS FOR LIVING
SCRIPTURE: Therefore take no thought, saying, What shall we eat? or, What shall we drink? or, Wherewithal shall we be clothed?
Matthew 6:31
There are many reasons why people live on earth. There are people who live rightly, that is, they live according to God's plan for their lives. Others live wrongly, that is, they live outside of God's purpose for their lives.
In our study today, we shall be looking at wrong reasons why people live so we can live rightly.
1. Survival (Matthew 6:31)
The majority of human beings live for survival. This is the realm where people try to make just a living. Survival is their sole aim for life. Living for survival is the lowest level of life. It is almost like animal existence where the birds are looking for what to eat and where to perch. A person living for survival sleeps and wakes up pursuing what to eat, what to wear, what to drink, and what to drive. Survival is the worst way to live.
2. Society (Exodus 23:2)
Some people live for society.
They take their bearing from the society. They are a people who do not have a mind of their own. They do not know what they want except they see what people do. They are a people of no conviction. Whatever they see people do in society, they think that is the right thing to do.
3. Pleasure (Matthew 24:38).
There are people who are alive basically for pleasure. They are alive to gratify their flesh. Whatever gives pleasure to them is what they live for.
Beloved, to follow the flesh is to be enslaved by the flesh. The flesh of man is a terrible task master. It is like a bottomless pit that can never be filled. That will not be your portion in Jesus Name.
Make up your mind not to live just for survival, society or pleasure.
Make up your mind to live according to God's purpose for your life.
PRAYER: Lord, deliver me from living for survival, society or pleasure. I receive the grace to live according to Your purpose for my life, Lord, in Jesus' Name.
Goodseed Daily Devotional is the publication of Apostle George Amadi- Senior Pastor Goodnews Bible Church London. If you are in the London area do worship with us at 2nd Floor Unit 4 Westmoreland House Scrubs Lane White City NW10 6RE