Goodseed Daily Devotional 23rd January 2023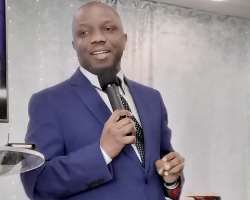 Apostle George Amadi (Lead Pastor: Goodnews Bible Church, London)
Topic: HINDRANCES TO DESTINY FULFILMENT
SCRIPTURE:
But I keep under my body, and bring it into subjection: lest that by any means, when I have preached to others, I myself should be a castaway.
1 Corinthians 9:27
There is something called divine purpose in life. That is the purpose of God for a man or woman. It is God's ordained reason for one's existence.
However, there are many people who lived the whole of their lives on earth without entering into God's plan or purpose before they die. This means that a person may be born, live and die, without entering into the plan of God for his or her life.
Recently, I read about Kenneth Hagin and I was touched. He said after 15 years of Ministry, God told him to get ready to enter the first chapter of His (God's) plan for his life. He was shocked. Then he said to God , "If I have not entered the first chapter of Your plan for my life, what then have I been doing with my life all these years?"
Can you imagine that! There are people who remain at the introductory phase of God's purpose for their lives till they die. So, it is possible for people to live and die without fulfilling the purpose for which they were born.
Now, the question is, what are the hindrances to a life of purpose?
i. Lack of thought* (Proverbs 4:23) Life flows out of thought. Thoughtlessness is the reason behind purposelessness.
ii. Lack of a sense of value* (Ephesians 5:15) When people decide to live at random, it makes them to end without meaning.
iii. Lack of self-control* (1 Corinthians 9:27) To let the flesh be in charge of your life is to rob yourself of your destiny.
iv. Lack of quality association (Proverbs 13:20) Profitless association hinders destiny fulfillment.
v. Lack of spirituality (Genesis 9:27) A life where people have no personal altar with God hinders destiny fulfillment.
Beloved, make up your mind to fulfil God's purpose for your life.
PRAYER: Help me, Lord, to fulfil Your purpose for my life. Deliver me from the hindrances to a life purpose, Lord, in Jesus' Name.
Goodseed Daily Devotional is the publication of Apostle George Amadi- Senior Pastor Goodnews Bible Church London. If you are in the London area do worship with us at 2nd Floor Unit 4 Westmoreland House Scrubs Lane White City NW10 6RE