Fire Guts Ogun State Agriculture Commissioner's House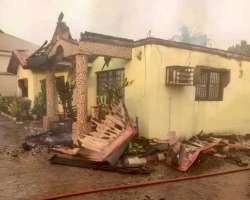 The Commissioner for Agriculture, Dr Adeola Odedina, has reportedly lost his house located at Kemta Idi-Aba Area of Abeokuta to an inferno.
According to report, firefighters have been deployed to the scene to put off the fire.
However, the inferno succeeded in razing down the building and everything therein.
Confirming the incident, Odedina appreciated God that no life was lost in the incident, even as properties worth millions of naira were destroyed.
Meanwhile, the Director of the state Fire Service, Fatai Adefala, said the fire could only be traced to the kitchen.