Interrogating Governor Uzodimma's Insensitive Reaction To The Attack On Ikenga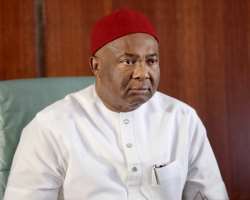 In what could pass as the most insensitive action by any leader, Governor Hope Uzodimma has chosen to blame Ikenga Ugochinyere Ikeagwuonu for the tragedy that befell him and his family, few days ago. From the statement of the governor and his countenance, you could see a man who is unapologetically happy with the tragedy that befell his "rival".
According to the governor, he has security reports showing that those who attacked Ikenga did so in retaliation for the PDP candidate's decision to go back on an agreement he had with the hoodlums. The governor also said that security agents also told him about where Ikenga held meetings with these people and how they agreed that there will not be an election in Nigeria.
The governor said all this without having the slightest courtesy to commiserate with the immediate and larger Ikeagwuonu dynasty, people of Akokwa, Ndi Ideato and Imo people over the loss of Innocent lives during the attack. This bears evidence that the governor has no value for human life and has no respect to the people of Akokwa and Ideato whose community was defiled with blood and the usual peace enjoyed in the area disrupted. For Governor Uzodimma, the only life that matters is his life, those of his family members and probably, those of the Chinasas and their likes.
Beyond the insensitivity displayed by the governor in his reaction to this sad incident, his claim also raises more salient questions and leaves any critical mind with questions as to what the governor truly knows about the incident.
Let us interrogate the governor's claim a little;
1. If gunmen are going after politicians who showed sympathy to the cause of Nnamdi Kanu or the IPOB, then, 50% of politicians in the Southeast would have either been dead or suffered various degrees of attack. Ikenga may have been an outspoken supporter of Nnamdi Kanu, but the allegation that he held meetings with the gunmen and agreed with them to champion a no-election cause is something the governor needs to explain further with evidence.
2. Ikenga Ugochinyere kicked off his political movement for the House of Representatives election before Nnamdi Kanu was rearrested about a year ago. In the heat of the security crisis in Imo State and the entire Southeast, he was about the only politician whose billboards and campaign materials were everywhere in Ideato and at the time most Igbo politicians went on self-imposed exile, Ikenga was all over the place, attending social functions and holding political meetings. At what point really, did he hold these meetings and sign an agreement to support a "no election" agitation? I am not saying that this didn't happen, but the governor needs to convince us with evidence.
3. If showing public sympathy and probably calling for Nnamdi Kanu's unconditional release is an evidence that one is in bed with the hoodlums terrorising the Southeast, then, Governor Uzodimma is among those who had an agreement with them because he was one of those who held meetings with Nnamdi Kanu when he was released in 2017.
4. If security agents have information of where these hoodlums are meeting and are also very intelligent to have listened into their conversation, why have they not been able to arrest all of them and their sponsors? Would it be out of place to say that since the governor has this detailed information about the movements and plans of these terrorists, yet failed to apprehend them, then the governor is shielding the terrorists?
5. The governor's statement could also be interpreted by some analysts as an attempt to deflect attention from the real culprits, given that his most beloved aide had been accused by Ikenga of plotting to kill him.
6. It is not the governor's responsibility to give such security briefings. He should have allowed the police to brief Nigerians on what really happened. The governor's statement is not only reckless but raises strong suspicions.
7. The governor is known for using insecurity to blackmail his opponents. Before now, the governor had told us that it was Rochas Okorocha and members of his political family that was behind the spate of insecurity in the State. Ugwumba Uche Nwosu was even arrested and stripped almost naked by policemen alleged to have been sponsored by Governor Uzodimma. Today, Ugwumba Uche Nwosu is said to be an ally of the governor. Suddenly, he is no longer a sponsor of insecurity because he became a friend of the governor? Would it be out of place to analyse that the governor is merely using insecurity to blackmail his opponents and force them to either align with him or force them to run away from the State?
8. Since the governor is so sure of those involved in that attack, is he going to allow them go scot-free merely because his political opponent is involved? What efforts is the governor making to ensure that those behind this act are apprehended?
9. Ikenga's house was attacked less than two days after he held a press conference in which he reiterated his call for Nnamdi Kanu's unconditional release. Does it make sense that an individual who is prominent for fighting for the release of the leader of the Biafra agitation would be attacked by the same people who claim to be fighting for Biafra or for the release of Nnamdi Kanu?
10. Some eyewitnesses have told me that the gunmen who attacked Ikenga were shouting "no election" and I believe that some people would interpret this as evidence that they are Biafra agitators or ESN, but I don't buy that argument. There is no particular way of identifying ESN or the other criminals parading as Biafran agitators and there is no way of differentiating between the real agitators and criminals or even security agents doing hatchet job. Ikenga's political opponent (s) could have hired these bandits and instructed them to act the way they did in order to deflect suspicion. Any group of criminals can come out to shout "no-election" or "Free Nnamdi Kanu" as a decoy to either frame the wrong people up or to gain some cover.
His Excellency Distinguished Senator Hope Uzodimma should stop playing politics with lives of Imo people and face up to the challenge of insecurity in the State. This strategy of trying to blackmail opponents with insecurity in the State is becoming too obvious and clearly uninteresting.
The Police and other security agencies should be allowed to do their work without any form of political interference. If anyone is found culpable in acts of criminality and terrorism, such a person should be apprehended and made to face the law and not being shielded or framing people up merely because they are not on the same page, politically.
MAY IMO WIN AND MAY TRUTH PREVAIL!