Four Years Since Murder Of Ahmed Hussein-suale Divela, Ghana's Journalists Still Attacked With Impunity
The January 16, 2019, murder of Ghanaian journalist Ahmed Hussein-Suale Divela, who was gunned down by unidentified men months after threats by a local politician, sent shockwaves through the country's press corps and yielded promises from leaders to find the killers and bring them to justice.
But four years later – despite police assurances of progress and two arrests – nobody has been tried or convicted in the journalist's murder. Meanwhile, crimes against journalists continue. Since Divela's death, at least 30 other Ghanaian journalists and media workers have faced abuses in connection with their work, including attacks, threats, and arrests.
Slain Ghanaian journalist Ahmed Hussein-Suale Divela (Photo: Tiger Eye Private Investigations)
Ahead of the fourth anniversary of Divela's murder, CPJ followed up on each of these cases to learn whether anybody had been held responsible. While there were a few patchy attempts at accountability, CPJ found a broad pattern of impunity that flies in the face of Ghana's reputation as a stable democracy where freedom of the press is enshrined in the country's constitution.
Since 2019, CPJ's research shows that 14 journalists and media workers have been physically attacked in relation to their work – nine of them by members of Ghana's police or military. The attacks have continued in spite of Ghana's police and media groups adopting a 2019 framework for improved relations and the safety of journalists. Officials involved were rarely disciplined, and when action was taken journalists said it was insufficient.
In one incident, police officers kicked and punched journalist Malik Sullemana when they arrested him in March 2019, leaving him with blood clots in his left eye and bruises on his limbs. Police temporarily suspended three officers while they conducted an investigation, but Sullemana said that he received no further update about the inquiry. He said that he has since seen several officers involved back on the street in uniform.
"When something happens people talk about it and then it fizzles out," said Sullemana, one of the 17 Ghanaian journalists and media workers detained since 2019, most of them briefly.
CPJ found that at least 10 journalists have received written or verbal threats in connection with their work over the past four years. That includes Erastus Asare Donkor, who went into hiding after he was threatened on television by parliament member Kennedy Ohene Agyapong in July 2021. Agyapong, who had also threatened Divela before his murder, said Donkor should be "beaten seriously" over his reporting about Ghanaian officers' alleged shooting of protesters. Police and parliament both opened investigations into Agyapong's statement, but the journalist said he was never informed of the findings.
In addition, since 2019, CPJ has documented attacks on the offices of at least three private broadcasters – Benya FM, Zylofon FM, and Radio Ada FM – during which the assailants assaulted journalists, vandalized the premises, or stole equipment. In separate interviews, staff from each of the outlets said the authorities' responses were insufficient.
In the January 2021 attack on Zylofon FM, for instance, the broadcaster's security guard shot the attacker and police apprehended the injured man, but after he recovered he escaped from the hospital and has not been rearrested, according to Zylofon presenter Ahmed Abubakar.
The broad lack of accountability has resulted in a tendency toward self-censorship among members of the media, say those interviewed by CPJ.
"Journalists will always balance a likely attack against the benefits of the story they are pursuing," said Muheeb Saeed, senior Africa program officer with the Media Foundation for West Africa, a Ghana-based organization that monitors press freedom across the region. He questions whether Ghana's authorities have the will to protect the press. "The state is too powerful to fail if it actually meant to stamp out impunity. At the highest level there is no commitment."
Sullemana, for his part, said the attacks amounted to a stain on the country's reputation. "We are one of the countries in Africa that the rest of the world looks up to. The world considers Ghana as a country of good governance and rule of law," he told CPJ. But, he said, "it is not safe to practice journalism in Ghana."
CPJ emailed Ghana's police press office and its parliament but received no response. Phone calls to police spokesperson Grace Ansah Akrofi went unanswered. CPJ also emailed Ghana's military but received no response.
Here are details of the cases involving the 30 journalists who have faced abuses for their work since Divela's murder and what, if anything, authorities have done to respond.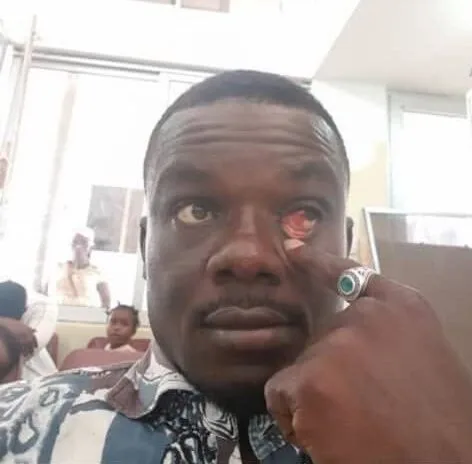 Ghanaian journalist Malik Sullemana after he was attacked by police. (Photo: Malik Sullemana)
Ghanaian journalist Eric Nana Gyetuah after he was beaten by police. (Photo credit withheld)
Report by: Evelyn Okakwu and Jonathan Rozen on January 13, 2023