Donald Trump's Tragic Flip-Flop On Abortion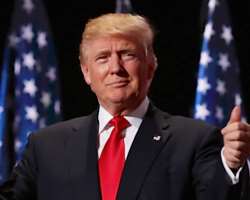 Donald Trump was unarguably one of the greatest pro-life Presidents in American history.
I wrote extensively about his pro-life policies in an earlier piece and he was the darling of the right during his one-term presidency.
The age-old cliché where 'Statesmen think of the next generation while politicians think of the next election' tragically caught up with him.
Ever since his declaration to run for the 2024 Presidential Election, he has been flip-flopping on his earlier conservative stance on the raging issues of American politics.
Earlier he pandered to the whims of the left by making available his resort for a shindig by some prominent gay politicians where he openly lent his support for the insidious 'cause.' Recently he was in the news for his pro-abortion stance when he said as quoted by the Catholic News Agency (CNA) when he posted on his social media platform Truth Social: "It wasn't my fault that the Republicans didn't live up to expectations in the MidTerms."
"I was 233-20!" he added, referencing his win-to-loss ratio on candidates he endorsed.
"It was the 'abortion issue,' poorly handled by many Republicans, especially those that firmly insisted on No Exceptions, even in the case of Rape, Incest, or Life of the Mother, that lost large numbers of Voters," Trump said.
"Also, the people that pushed so hard, for decades, against abortion, got their wish from the U.S. Supreme Court, & just plain disappeared, not to be seen again," he added.
"Plus, Mitch stupid $'s!"
Clearly, Trump is so determined to return to the White House next year that he is willing to sell his soul to the devil like Dr. Faustus in Christopher Marlowe's 'Dr. Faustus' sold his soul to Lucifer for sake of ephemeral fame and influence.
Trump, once the poster boy for noble right-wing causes is now seriously trying to appeal to the radical left ostensibly to get their votes for his unnecessary comeback bid. Once the poster boy for noble right-wing causes, Trump is now no different from unscrupulous politicians who flip-flop on issues without a thought as to how they want posterity to remember them all for short-term, transient gains.
At close to 77 and now on departure lounge having outlived the Biblical three score and ten by close to seven years, it is high time he behaved like an elder and spoke the truth to the left rather than trying so hard to dine and wine with them as it is akin to trying to teach a pig how to sing.
Donald Trump, please retrace your steps and evolve into an eternal statesman!