JONATHAN CAN SET THIS COUNTRY ABLAZE – GIDADO, ABACHA'S MINISTER OF STATE FOR FINANCE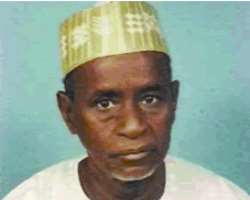 Gigado
The minister of state for finance in the Abacha administration, Alhaji Abu Gidado, has warned that President Goodluck Jonathan could plunge the nation into crisis if he adopts a do-or-die approach in his perceived quest for 2011 presidency.
His words: 'The issue is, with the President as a candidate, if he is hell bound to succeed; he can set this country ablaze.'
The elder statesman and ex- deputy chairman of Revenue Mobilisation, Allocation and Fiscal Commission, 1999 to May 2010, also tongue lashed the anti- zoning crusaders in the ruling Peoples Democratic Party (PDP), describing them as opportunists.
Speaking to Daily Sun , the septuagenarian posited that Nigeria was still in the process of welding together as a nation, adding that the zoning arrangement was still relevant as a political process which should be allowed to proceed normally until the country gets to a time when it can conveniently do without zoning.
'I want to say that we had a civil war to be able to weld this country together and there are still constant threats', he explained.
Gidado emphasized that the ex-military leaders, seasoned politicians and technocrats, who initiated the zoning formula and made sacrifices in the process, meant well for this nation. Excerpts:
As the debate over zoning rages on, what is your view on the issue?
Well, zoning was initiated or evolved by a lot of concerned citizens of this country who have contributed and in some cases even sacrificed a lot to bring it about in the sense that they have been involved seriously since the inception of this country to date. Some of them are military men who sacrificed to keep the country as one.
Some of them are seasoned politicians and technocrats who sat down to look at the country in its development of political process to come up with the zoning issue so that every part of the country should have a feeling of belonging and therefore must commit himself or herself to the development of the country. That is why a major political party came up with the zoning issue.
What is your take on the threats and counter threats of some northern and southern political leaders over the zoning formula?
You see, in the course of life, you will always come across opportunists as it were. I thought if you have an agreement, whether written or unwritten, it should be binding on a gentleman, after all, some of the countries like Britain we look up to for this so-called democratic process have no written constitution. It is purely human understanding.
When some of these people who have participated in seeing the country as one and in its politics of development, come up with an agreement for the betterment and survival of this country, it should be adhered to.
Are you opposed to the view that ability to deliver good governance rather than geo-political zones of candidates should determine who becomes the next President?
You are quite aware that we are still in the process of welding together, I must say. We had a civil war to be able to weld this country together and there are still constant threats. Some parts would like to break away to have their resources.
You know there are so many petty issues that are coming up which if you have a mature and responsible political setting, they would die a natural death in the course of life. But if we say, no, we must have this; the country could have a lot of problems.
Are you worried over the solid footing of the clamour for President Good luck Jonathan to contest 2011 presidency?
Yes! I'm worried in the sense that the late Umaru was there based on this tacit gentleman's agreement of zoning. Despite Umaru's demise, that agreement still stands.
The zoning issue should come up, after all, the leaders that came together to evolve this zoning are still there and they claim that the agreement is that executive position of the country ( 2011-2015) should be for the North. All other positions are equally part of the zoning. So, this should continue until such a time when the country's leadership is mature enough to take responsibility.
We wouldn't like to have leadership that would look only to his enclave like the little experience we had at the setting in of the political process. Do you understand what I mean? People should stop looking at their own enclaves and start looking at the whole country. So, the zoning arrangement is really to give that leeway for the evolution of leadership that will look at the country in its totality.
The zoning as an agreement, as a political process, should be allowed to proceed normally until the country will accept that as in US, for example, there are some senators who have been in the senate for 35 years and nobody is complaining. But here, with a lot of interaction people are saying this part is marginalized, this part is not participating. In order to eliminate this rancor, that is why those involved in the process of development of this country are saying that the zoning should continue. I am not one of them but I can see some of the logic with which they have judged the issue of zoning.
What are the prospects of credible elections next year if the President emerges as candidate?
Well, one can still express a little bit of doubt but I will like to say that in this country, there are people who can stand against the executive and say: No, this is the right thing. I am inclined to believe that the choice of Prof. Jega, although Jega alone cannot do the job after all, other people in the organization should support him for the organization to succeed.
So, the issue is, with the President as a candidate, if he is hell bound to succeed, he can set this country ablaze because what I have heard and known about Jega is that he can say 'to hell with this job if you are not doing the right thing take your job'. And that can throw the country into real mess because then the elections would be anything but elections.