Your wife is not your slave –Obesere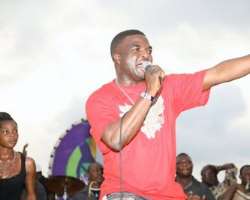 Abass Akande, known to Nigerians as Obesere, burst into the music scene with a brand of fuji music that was very unique. It was raunchy, earthy and pulsating. Before you could say O-b-e-s-e-r-e, he garnered a large fan base among the down-there Yoruba audience. But he realized the need to clean up his lyrics.
With that, he gradually began attracting the interest and, of course, wallets of fans higher up the economic ladder, becoming a celebrity in the process. Even during the recent Gulder Ultimate Search Celebrity Showdown, he showed viewers that he was a real gentleman and not your run-of-the-mill Mushin type.
Contrary to the practice among most musicians of his ilk, Obesere has maintained a solid home front, and he talks about why his marriage has succeeded. Excerpts….
Tell us how you met your wife?
I met my wife in London and not in University of Ibadan as many people believe. It was later on she told me she was in UI and that she just came to London for holiday. But then she never knew who I was. She thought she met just an ordinary guy and I didn't let her know who I was too. After a while I tried calling her but the number didn't go through.
So I sent someone to go to look for her. The guy never knew that I hid my identity when I first met her in London; so he just went to her house and said 'Obesere sent me' and she told him she never met any person with that name. Then she called me and asked, if really I was the same Obesere she knew and I said yes. But she was like but you never told me that. So my wife never dated me because of my name neither did I marry her because of her background. Rather, she really loved me and we both hit it off from there.
What was the attraction?
Before I met her, I had many girlfriends. But she was different, quite intelligent and very calm. Immediately I made up my mind about her, I didn't waste time at all. I just hit the nail on the head and told her I wanted her for life and we started dating.
You are both from different backgrounds. Was there any opposition, particularly from her family?
Honestly, her family raised the issue because I was a musician and they asked her if she was sure about what she was doing. But she said she loved me and I loved her too. She stood her ground and we are still happy together.
What would you say are the secrets that made your marriage succeed?
One of the greatest is patience and tolerance. Also I'm a very straightforward person and if anybody says something about my wife, I call the person to repeat it in her presence, most especially when it has to do with any issue involving her and my mother. I will tell my mom to repeat what she said about my wife in her presence. So I don't give room for gossips and I would never encourage rift. Also, I do away with third parties in my home. So my wife doesn't talk ill about my mother and neither does my mother talk ill about her.
So, what makes your wife unique?
Oh, my wife is the most beautiful woman on earth. She is intelligent and she doesn't have too many friends. Despite her background she is very humble; moreover, she respects me a lot.
Given that you are a Muslim, will you still marry another wife?
Ha! (Laughs) I will say that it is only God that knows the journey of every man. But I see my wife as if I have eight wives. But right now I can't say if I would marry four, or five wives but am begging God that I would not miss my step in life.
Do you help your wife with house chores at home?
Of course I do whenever I am at home. You know you can't leave everything to the woman; you need to help her sometimes. Though I don't have to do it myself but I can call some people to help me with it. When my wife is not at home too I have to be responsible. I don't believe that men should just sit and watch television or read newspapers. You should both take care of the home front.
Do you drive your kids to school?
No, my kids are abroad.
Do you do P.T.A runs?
My wife does that because am not always around but when I am available I do the little I can too.
So what are the little things you do for your kids?
They know that there is nothing they would ask for that I won't do for them. From Nigeria, I send them money for shopping and what have you. They know that Daddy is working hard in Nigeria. I also make sure I call them everyday.
How do you handle situations with your wife?
Well when I am not pleased with her, I talk to her gently and make her realize she is wrong. You know a woman is not a slave and you don't need to shout on her to prove your point.
What do you think is responsible for the high rate of divorce?
In marriage, if a woman is angry the man should keep calm. It is not all the time that a man would have to show that he is the husband. At times you have to keep cool. Also, I have noticed that if two people with the same attitude come together there would be a clash.
For instance, if you are very outgoing and your wife is also outgoing there would be problem because someone has to stay at home. What I'm saying is that while one person is hot the other person should be cold. Another important thing is that women should avoid going through their husband's phone. What are you looking for?
Don't you think that since both of them have agreed to come together as one, there should be no secrets kept?
You see, what you don't know won't hurt you. If a woman doesn't bother about checking her husband's phones she won't have problems. If she ignores it she would be happy. You see women sometimes over react to these issues but they fail to realize that it is the responsibility of a man to monitor a woman and not the other way round. If a man loves his wife he should be the one doing that because he wants to protect her and because it is easier to convince a woman. But men should also take it easy.
Is it true that you don't drink and smoke?
Yes I don't. When am on the stage I don't need to get high; I just sing naturally.