AHRC Wishes Everyone A Safe & Pleasant Holiday Season: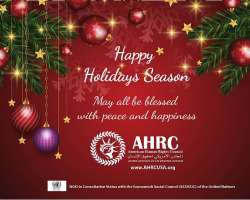 The American Human Rights Council (AHRC-USA) extends its warm wishes to all for a safe and pleasant holiday season.
Christmas is a religious holiday that celebrates the birth of Jesus Christ in Bethlehem, Palestine. It is a holiday that also has a secular meaning and is celebrated by Americans of all faiths. Christmas is also a federal holiday. This is a time when we are reminded of the importance of family, friends and of the importance of giving.
Coinciding with the Christmas day (25th of December) is the African- American holiday of Kwanzaa. It begins in December 26Th. and ends on January first. Kwanzaa is not a religious holiday. Kwanzaa is a time to celebrate the African American heritage and culture through festivities and time spent with friends and family. Kwanzaa celebrates the seven values of in African culture: Unity, self-determination, collective responsibility, cooperative economics, purpose, creativity, and faith.
AHRC wishes everyone a happy and safe holiday season. We urge everyone to be mindful of the public health reality in the country as to the Flu, Covid and RSV that is overwhelming our hospitals. While we all should celebrate with friends and family, we should follow all the directives of the federal and state health authorities to keep ourselves and others safe.
We live in a world and in a country rich in diversity. The diversity of holidays, cultures and religions is to be cherished and celebrated. And despite all the conflicts, suffering and wars in the world, it is important to not give up hope and to celebrate these holidays. Despite all hardships and challenges, the human spirit perseveres.
"This is a great time of the year, we are surrounded by joyful occasions," said Imad Hamad. "While we celebrate, we should not forget the less fortunate and always share what we have with the less fortunate in our communities," added Hamad. "This is the spirit of the holidays," concluded Hamad.
"On behalf of the Board of Directors of the American Human Rights Council, I wish everyone happy holidays" said Dr. Saleh Muslah, AHRC Board President. "This is a special time of family gatherings, sharing, giving, caring and celebrating" continued Dr. Muslah.