JONATHAN AND THE POLITICS OF (S)ELECTION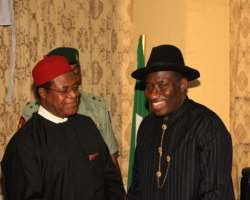 PHOTO: PRESIDENT GOODLUCK JONATHAN (R) CONGRATULATES PDP CHAIRMAN, DR OKWESILIEZE NWODO ON HIS SELECTION AS PDP NATIONAL CHAIRMAN.

The politics of zoning which has now become a vehicle of intrigue for the professional political class may end up as one of such scandals that could further widen the existing divisions within the country. President Goodluck Jonathan has a personal responsibility to ensure that he does not become a pawn or the architect of an unfolding subterfuge which could in the long run damage his administration's interests. There are three clear issues involved in the arguments and counter-arguments about zoning as currently constructed. To the small circle of Jonathan's political strategists (consultants?), it is un-Nigerian, and unadvisable for Jonathan to be President for a year, to organize a Presidential election only to hand over power and office to another person when he, Jonathan is neither sick nor uninterested. So, although Jonathan himself has not issued any categorical statement, his promoters are busy making a case for his presidency. In the process, they have cast the word "opportunism" in a new light, they have given desperation a new name, and the main victim even if they do not realise it now, is president Goodluck Jonathan himself who has unwittingly allowed the golden opportunity of his Presidency to be reduced to endless talks about 2011 and his personal ambition.
All those lofty promises he made when he assumed office have now become less important; his presidency is no longer focusing on electoral reform and integrity, not on the Niger Delta crisis, not on how to rescue the economy or the power sector, but more on how Jonathan can remain in power. The only obstacle that could stand in Jonathan's path is the reported zoning formula in the Constitution of the Peoples Democratic Party in section 7(2) (c ) thereof which talks specifically about rotation and zoning of party and public elective offices…at all levels. It is this clause that the Jonathan consultants, driven by their own selfish interests and expediency want to circumvent in response to the insistence by certain sections of the North that the North to which the presidency was zoned in 2007 is yet to complete its two terms in office due to President Yar'Adua's sudden death. They offer no compelling reason other than the fact of Jonathan's incumbency (one year is not enough for him to make a difference!) and his ethnicity (the South South should be allowed to have it.) Unwittingly, those who claim to be opposing zoning are actually making a case for it only as long as it stands to the benefit of their kinsman or sponsors. But who says each zone must have two terms in the Presidential office compulsorily?
In an earlier piece on this subject, titled "Rotational Presidency and the "core North?", (The Guardian, April 18 ) I had decried the use of the rotation principle to compromise merit or ability, and the tendency to assume that elected public officials necessarily carry the banner for group interests. This latter point is now fully on display and it presents 2011 as a big threat to Nigerian unity. In the last month alone, Governors of the South South have met to endorse Goodluck Jonathan as the only candidate for Presidency in 2011. The South East Governors were even more brazen: they resolved that nobody in their region must seek to become president or vice president in 2011. In the North, the Governors are divided, while some of the youth and other political stakeholders (Katsina Stakeholders Forum, Arewa Consultative Forum) are up in arms threatening that if the North is not allowed to continue from where late President Yar'Adua left off, there will be great trouble ahead. Some elements have served notice that they will be most willing to foment that trouble. Meanwhile, some Niger Delta militants have also threatened that the next President must be Jonathan or no one else. Thus, the ground seems to have been prepared for violence either before or after the 2011 elections. It is instructive that the group interests that have so far been expressed have all been about Jonathan's ambition.
The intriguers are already conducting the next Presidential election, without PDP party primaries, and completely in spite of the opposition and the Nigerian voter. They want to select a President for us and they are threatening that we have no choice in the matter. The real scandal is how the unfolding electoral process has been reduced to how best to achieve their target. The decision of the National Assembly to change the order of elections (this was not an existing problem as such), placing National Assembly and Presidential elections first is deliberately calculated to achieve the Jonathan for president goal. Once Jonathan and the PDP win the Presidential and the National Assembly elections, the calculation is that the hands of the electorate will be tied, as very few communities would like to be shut out of power at the centre by voting for another political party. And to be sure that the Governors do not disappoint Jonathan, the PDP chair, Okwesilieze Nwodo is already flying the kite that the PDP Constitution will be amended to stop political appointees from being automatic delegates. It is a shame that President Jonathan will allow himself to be used in this manner. While pretending for the most part to be aloof, he ruined his own case this week, when he disclosed in Uganda that he intends to run an election that will not produce any litigation.
It is not his duty to run elections; that is the responsibility of INEC, and he is definitely not in a position to predict a priori that there will be no litigations because "there should be no reason for people to go to court". Of course, there will be reasons for litigation, beginning with the current attempt to manipulate the legal framework for the elections. President Jonathan in seeking to become President in 2011 must present his candidacy on the platform of actual performance; he must go through due process within and outside the PDP; and he must do everything to subject himself to the rules. The most important feature of a democratic election is the right and power of the people to choose. He must defend that, because the emergent chaos ridicules the electoral process.
It is being argued in some quarters that all of this is a PDP affair, and that in no way does the argument about zoning preclude other political parties from fielding candidates of their choice. In principle, may be. But the practical reality is that the campaign for a Jonathan candidature is being conducted in such a way as to discourage any other persons from stepping forward as a Presidential candidate. The Nigerian Presidency is ultra-powerful and too many likely strong aspirants have so much that they cannot afford to risk; to challenge an incumbent President or Governor is to risk all forms of victimization including being kidnapped before the elections! The various Governors who are either choosing or rejecting Jonathan for 2011 are not doing so only as members of the PDP; they pretend to be speaking for the Nigerian people. Such arrogance which discounts the electorate can only take the country backwards.
The PDP must respect the rules of internal democracy in choosing its Presidential candidate, and it will be wrong to present its choice as a national decision that is binding on all and sundry. If Jonathan must be President, this must be determined in a free and fair manner, even within the party. Donald Duke in a famous statement that is now being reproduced widely has exposed the role that Governors play in the rigging of elections. It is these same Governors who are now insisting that Jonathan must be President in 2011. Only about eight Governors opposed the plan in the north. Attahiru Jega, the INEC Chairman has warned Resident Electoral Commissioners to stay away from the Governors, but how does he hope to enforce that directive? In better organized countries, Duke's expose would have raised the level of debate and awareness, rather it has ended up as a matter for side-talk and needless jokes: a general indictment of all of us.
The urgent task before civil society is to resist every attempt by the PDP and other politicians to rig the 2011 elections before they actually take place. Already, a credible voters' register is non-existent and to produce one in a hurry, the country has to provide N72 billion by August 11, an amount that has now suddenly gone up to N74 billion within a week. Is the computer error alluded to by Professor Jega due to changes in the exchange rate? It is like old times all over again; nothing has changed, except the personnel involved (even that is debatable).
Disclaimer:

"The views/contents expressed in this article are the sole responsibility of the author(s) and do not necessarily reflect those of The Nigerian Voice. The Nigerian Voice will not be responsible or liable for any inaccurate or incorrect statements contained in this article."
Articles by thewillnigeria.com