House Pressures Sanusi On Lending Rates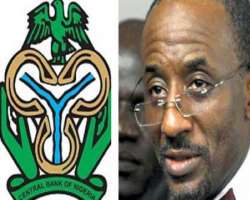 PHOTO: CBN GOVERNOR, MALLAM SANUSI LAMIDO SANUSI.

ABUJA, August 01, (THEWILL) - The House of Representatives has charged the governor of Central Bank of Nigeria (CBN), Mallam Sanusi Lamido Sanusi to provide enforceable prescription that would lead to the reduction of the disparity between borrowing and lending rates in the country.
Chairman of the House Committee on Banking and Currency, Hon. Ogbuefi Ozomgbachi who gave the charge in Abuja at the weekend said the committee was not comfortable with "the alarming wide disparity between borrowing and lending rates."
He said the committee remembers the promise made to it by the CBN Governor on assumption of duty last year that he was embarking on reforms that would strengthen regulatory and supervisory oversight of banks, as well create credible regime that would facilitate attainment of price stability.
According to him the "committee is convinced that the imperative task of reduction of the disturbing gap between deposit and lending rates should be primarily a shared responsibility between the CBN and the DMB's.
"Therefore the committee invites you to rise up to the responsibility and ensure that lending rates are crashed to the level of the prevailing deposit rates within the next few days."
Ozomgabchi noted that the governor had also assured that he would collaborate with other arms of government to support the achievement of macro-economic objectives of sustainable growth and low unemployment level.
The chairman stressed that the committee was aware of the audit report, which established serious supervisory weaknesses and corporate governance gaps within the CBN due to failure to enforce audit report recommendations as well as delayed implementation of risk based supervision.
"The committee recalls that the special audit report of the 24 banks had indicated that about ten of the banks were in particular grave condition due to combination of issues including capital inadequacy, low liquidity, serious corporate governance, abuses and weak risk management controls."
He said the committee would want to have a detailed report on the performance and health of the 24 banks and the amount of money earmarked or injected by the CBN into some critical sectors of the economy.
The lawmaker however expressed the hope that with the enactment of the Assets Management Commission (AMCON) by the National Assembly, the resolution of huge non-performing assets of the Debt Management is within sight and that would lead to improved liquidity and capital adequacy of the DMB's and thereby facilitate their ability to start extending credit to the domestic economy."