I WON'T STEP DOWN FOR JONATHAN – IBB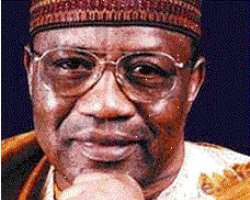 IBB
Last Thursday meeting between former President Olusegun Obasanjo  and former military head of state and Peoples Democratic Party, [PDP] presidential aspirant, Ibrahim Badamasi Babangida, has nothing to do with the presidential ambition of the latter.
Media spokesperson of General Babangida, Kazeem Afegbua gave the declaration yesterday in a press statement made available to journalists.
On Saturday, some newspapers reported that General Babangida played host to Chief Olusegun Obasanjo at his Wuse II, where Obasanjo advised him to drop his presidential ambition for the incumbent, President Goodluck Jonathan, who has not officially declared his interest in the 2011 presidential race.
While admitting that a meeting actually took place between the two former heads of state, Afegbua however disclosed that the ambition of Babangida was never the subject of discussion.
"To state the obvious, there is nothing near the truth in the report because the meeting between former Presidents Chief Olusegun Obasanjo and General Ibrahim  Babangida has nothing to do with 2011, zoning of the presidency or support for the rumoured ambition of the President, Goodluck Jonathan. The two former presidents have always exhibited mutual respect for each other irrespective of their different political leanings and ideologies.
"The meeting between the two former Presidents was not a political meeting as being reported. It was a social meeting which was not the first of its kind in recent times, as both of them enjoy mutual and positive relationship. It should be noted that General IBB as a former President has free access to President Goodluck Jonathan and does not require a middle man to interface between him and the President".
Afegbua also assured supporters of  General Ibrahim Babangida that the  former military president and PDP presidential aspirant would not shelve his presidential ambition, even as he observed that the ambition of the incumbent President Goodluck Jonathan remains at the level of speculation.
"General Babangida's belief in the zoning principle was borne out of his vast experience in the management of the country and understanding of the intricate logic and history of the Nigerian nation as a process that could easily help to stabilise the polity to provoke development and growth.
He has consulted widely before he took the patriotic decision to give leadership to his teeming followers, supporters and associates by conceding to their request to run the 2011 Presidential race. On that score, he will not disappoint his supporters.
"To  the best of our knowledge, the incumbent President has not told Nigerians that he was interested in the 2011 Presidential race even though some of his political associates and friends have been on the streets drumming support for him.