MARRIAGE SCARES ME – MISS SOUTH-SOUTH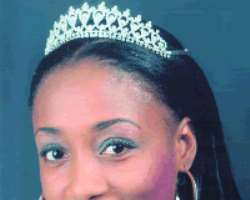 Miss South-South (Precious)
For a lady, she stands at a commanding height of 5'11. Add to this her glowing skin and pleasant disposition. Twenty Five -year-old Precious Osa-Edo sure has everything it takes to turn heads when she enters a room.
And probably with her intelligence, the 2008 Law graduate from Igbinedion University had equally won the hearts of the judges at the recent Miss South-South beauty pageant. A young veteran of beauty pageants (having participated in about 12!), Precious could say she has seen it all, and in this very down to earth chat with Sunday Sun, she tells of her Christian faith, her fears, her pet project, Hepatitis B, being a queen, and still remaining the girl next door. She also adds the comforting word that her ideal man must not be 100% perfect. Excerpts:
Tell us about yourself
I'm from a family of five, three elder brothers and a sister. I am the last. My sister and one of my brothers are twins. My mom is a doctor and a lecturer at the University of Benin while my dad is a politician. My elder brother read Law, and my elder sister has a degree in mathematics while her twin studied Fine & Applied Art. My immediate elder brother read Microbiology. I did my National Youth Service with Visafone office in Abuja.I've been competing in beauty pageants for a while.
I represented Nigeria in Model of the Universe in Africa 2003 held in Ghana and won . I was first runner-up in Miss International in Atlanta where I represented Nigeria as well and Miss Great Britain won the pageant. I also participated in the first Silverbird Model search but Ndidi Azubuike won. Nineteen of us were selected for the pageant and that was where I actually made contacts to represent Nigeria in the Model of the Universe in Africa.
I also made contacts from Model of the Universe in Africa to represent Nigeria in the Miss International Pageant held in Atlanta. I participated in the Most Beautiful Girl In Nigeria Pageant and was among the top 10 in 2007. I won Miss Tourism Nigeria pageant in 2002. I also won the Miss UNIBEN pageant during my diploma programme at the university , before I left for Igbinedion University. I can't remember all the pageants I have participated in, but to the best of my knowledge I think I have participated in about 12 pageants.
So how did you get into the pageants and why so many?
It all started when I was at the University of Benin, studying for my diploma. I ran into some guys while hanging out with my friends and they asked me to take part in the Miss Delta State pageant in 2000. We just laughed over it but my friends encouraged me to go for it. I never knew my parents would like such things; being from a Christian home.
I didn't tell my parents initially, because I didn't know how they would react , but somehow they got to know about it and supported me. I came third in that pageant. That same year, I won the Miss Uniben Pageant and afterwards, my friends told me it could actually be the way forward for me and encouraged me to proceed. My friends sponsored my participation in most of these pageants. My mom has been quite supportive. She made my clothes and bought my costumes.The whole family supports me .
You didn't win some pageants.So what motivated you to keep participating in more pageants?
My dream had always been to actually give back to the society. I felt that just participating in international pageants was not enough to give back to my own people. I realized I had to do something down here in my local environment. So, I took part in the MBGN but it didn't work out for me. That was when Munachi won. But I said I wasn't going to give up.
Luckily for me, the day I finished my exams and got back to Benin, I ran into the organizers of the South-South pageant, who were selling their forms. I had this intuition that if I took part in it, I could win and get the opportunity to do a pet project I had been thinking about. So I entered for the pageant in 2009. I passed the screening and won. The pageant was held in Grand Hotel Asaba, Delta State in August 2009.
My tenure will end next year .
When I won the pageant, I made a trip to Dubai , but when I returned ,I sat down and said to myself that I didn't participate in the pageant just to have fun.
Coincidentally about that time, I lost a family friend to Hepatitis B and I had been thinking of what project to do. I discovered that every beauty queen was either working on HIV or helping children, so I just said this a good project to work on .
So, I started asking people about Hepatitis B and funny enough they didn't know about it. I decided it would be the subject of my my pet project if I won, and I believe that gave me the crown that day. So winning the crown was a good opportunity to continue with Hepatitis B awareness campaign. I started doing more research on it and discovered that it is sexually transmitted and very difficult to manage as it could lead to death , because it affects the liver and the kidneys. It also makes the patient susceptible to other diseases like tuberculosis and it occurs mostly in poor areas in Nigeria.
Like I said, it's quietly becoming rampant and people are not aware. The government is spending so much doing HIV awareness while something else is creeping in slowly. So I thought to myself that the best strategy would be to create awareness since there is no cure for it, but the vaccine is available. One can actually prevent it , so I decided what I will actually do is to get the government to sponsor the project; organize lectures by experts(doctors) and also hold talk shows and get students to participate. Youths, children and the elderly are my targets.
So how far have you gone?
So far, I've received support from the well-to-do , but nothing has come from the government yet. That's how I have been able to do most of my research. I pay doctors to do more research on it. I intend to start from the South-South region, where I come from. I'll start with Delta State , because that is where I won the pageant even though I am from Edo state. I intend to go to Delta, Edo, Akwa Ibom, Bayesla, Rivers and from there move to other parts of the country.
I want to create awareness and give out vaccines to people as well. I want to organize talk shows, lectures and run television programmes. I don't have the vaccines yet, but we are soliciting funds from governments to be able to get the vaccines. We also need doctors to administer the vaccines. Before administering vaccines, I need to inform patients or the person on why and also carry out tests , because you can never tell when the immune system is going to be low.
Tell us about the fun side of the pageant?
Being a beauty queen opens doors for you, because you meet a lot of people, make new friends and lose your old friends. Most times, some of them, the old friends cannot actually stand the fact that we were all friends drinking garri or playing together and now you are now in the papers and people are seeing you all over the place. Some can stand it , but others cannot. Those that can stand it say she is my friend and stick around you but somewhere along the line everybody cannot just be happy with you, so you just have to let things go. Those are the challenges of being a beauty queen.
In camp you meet a lot of girls. We were about 35 that contested. At least I can proudly say I made 15 friends from there, but obviously everybody will not be your friend. It's like you came and stole the crown from them, which is okay. It has been fun. I got a VIP treatment at the hotel after the pageant for two weeks with my fellow contestants. I won a brand new car, N1million salary which is spread over my tenure. For now I'm actually working on my project.
Why did you study Law?
I have always wanted to promote people's cause. Being there for the less privileged has been my dream and passion. It's the way I was brought up. My dad doesn't like people being oppressed. That was where he started from and became a politician. Initially I never wanted to study Law. I wanted to study accountancy but my mom was impressed with the way she saw me relate with my friends when they had problems, and how I always came in to make peace between them .She believed it would be just right for me to study Law. So I went for it and the rest as it is said is history.
So what's your specialization?
I hope to specialise in Oil and Gas Law. That is where the money is. We Niger-Delta citizens are suffering. These companies come in and make a lot of money from us and don't give back to us.
You were born and raised in a Christian home. Are you a born-again Christian? And if you are, didn't you have to wear bikinis during the pageants?
Yes, I'm a born-again Christian. I had to wear bikini in the pageants but in the South-South contest we didn't do everything on stage , because we had a pre-judging session where only the judges would actually interview and see you. It wasn't like a two piece but a one piece swimsuit we had on and it was okay. There was also a native attire parade, which was on stage and we also had an evening wear session for pre-judging.


Miss South-South
What motivates you in life?
God first , is my motivation. Without God ,you can't go anywhere. I don't believe everything has to be done through physical means, because you have to pray and fast. When I was doing my pageant, I fasted. I was fasting to win, after all there were more beautiful and intelligent girls than I , but I was just favoured.
It is not by my power. Yes, some people can do it by their power but I believe in God. Actually in every pageant I participated in , I never envied the winner, but I felt that it was time to win. I believe in destiny and destiny cannot be changed. No one can change his or her destiny. If it is the person's time to win, why envy the person, just take it easy.
So, I think that's what has actually put me through , because I believe everything is about God. Even when I entered for the MBGN, I did the same fasting and praying and did not win. It doesn't mean that I was not good, but God just said it wasn't meant for me, you have other things to do, leave it for Munachi to win and it did not stop me from participating in any other pageants. The MBGN pageant actually helped me to groom myself.
We hear of sexual harassment or sex for the crown. You've been there severally, what's your experience ?
In the pageants I have participated in , nobody ever approached me for sex, because I didn't give you the room. I believe , if you give them the room , it will happen.In life, things happen. We heard a lot of stories even within the camp that someone was sleeping with one judge or another but for me that wasn't the reason I was there.
Things will always happen and when you put a lot of beautiful girls together, things will happen. They will psyche you and tell you all sorts of things that you can do to win. Some girls cry after the pageant. Why did they cry? Probably they paid some price we didn't know about because I don't see the reason why you should kill yourself because you lost in a pageant. If you have actually not done more than what is necessary, that is what every other person did. I don't think you should kill yourself over it, you should just take it as one of those things.
That there is always a winner and loser. So, if you have actually paid with your body or any other means, it will actually hurt you, because you will feel disappointed. Like me, in the pageants I have contested , after buying my form that's the end of it even when the organizers call me, there is nothing I discuss with them. I cannot meet you in any other place apart from the venue . If that is why I won't win, so be it.
I have had organizers calling me after entering for the pageant. If I don't come to see you, you will not have room to tell me anything. That's the way I go about it, because men will always be men, women will always be women. Some women believe that with this they can win it but for me, it's my policy that if you call me and I know our discussion won't be in public, I won't go to see the person. I am not saying I am a saint but that's my policy. It's not as if I have never had people calling me, even after the pageant. It's of no use; why come next year, I have lost, I have lost. That is the way I go about it.
When I came back for this pageant, the organizers were nice to me. They bought the form for me. They called for meetings, I went for meetings and saw everybody and I was comfortable with it. I don't think the man will sleep with 20 girls at the same time. I am okay with that. Not when you are telling me to meet you in a particular place. What are we discussing? If your intentions are genuine about the pageant ,I don't think you should be discussing with your contestants before the pageant. That's the way it is and that's how I have been handling my own conduct.
So how do you handle male admirers?
I have been coping even before the pageant. Men will always talk to you and want to talk with you. But the thing is, are they saying the truth? They are actually telling you the right things they will always want to tell you. Like my mom will always tell you, don't listen to them , because they will always want to tell you what you want to hear. They will never tell you the truth, even when they see a girl with crooked legs, they will tell her that she has beautiful legs.
Sometimes, when some guys tell me I'm beautiful, I say thank you, I know I am. Then they are stuck and have nothing else to say. I am not selective about men, so long as you have a good spirit, believe in God, respect me, treat me right and you are straightforward, that's okay. Nobody is perfect, and I'm not looking for 100 percent perfect . I think 70 percent is okay or 65 percent. We are all Nigerians.
So is there a lucky man on the scene?
I don't know (laughing), I will not answer that. That's personal. I am not searching. I'm not single and I'm not married.
So when will marriage happen?
I don't know. God has the final say. I am not planning for anything yet. Everything is in the hands of God. I am leaving everything to God.
What is your worst fear?
My worst fear is marriage and I pray to be married to the right person because marrying the wrong person is the worst thing that can happen to any person. There are men who marry a woman and her life changes, because she is not given the freedom and support in her career. I want to be out there in showbusiness, so I want someone that will support me, follow me up, encourage me and trust me when I'm out there because he believes in me. I want to have a good marriage and stay with my family just like my parents even with their many challenges.
Who is your role model ?
My mom is my role model because she is God-fearing. She believes things should be done right. Getting your priority right, forgive and settle things with people even when they are wrong. She doesn't believe you should hold a grudge against anybody. She never takes sides when you have a problem with someone else which is a good thing to me. Most parents take sides with when their children does something wrong and end up spoiling them.Some even drop out of school.
Can you recall any moment you were caught off -guard?
An unexpected thing I did was when I had an issue with my ex-boyfriend a longtime ago. I caught him with another girl on Valentine's Day. I had gone to visit him at his place only to meet his absence. I went to the area where I saw him with the other girl for something else. Everything I saw convinced me that something was going on between them.
I called his name to let him know that I actually saw him and walked away.
I was really surprised at my reaction, because when I got back home, I asked myself, if it was really me that reacted calmly like that. But I realized that most times we say what we will do in a given scenario but when that time comes we do the opposite. Of course that was the end of the relationship, because he didn't come home that day and the next day was my birthday. I went ahead and celebrated my birthday and left for Benin.
Though he came back to beg , but I knew he was not worth it. He didn't respect me and wasn't there for me. Since then, I have not found myself in such relationship, because now I look before I leap. Then, I was younger and immature and was looking at the fact that he has money and was doing well for himself instead of really looking at who he was. As one grows older, you actually know what you want for yourself, and that life is more than just cars or money.
What's your advice for young girls?
First believe in God , because He is the key to success. Don't rely on your friends, because they will disappoint you and that is what happens to a lot of young girls. Rather they should confide in their parents, and their mothers especially except when the parents are dead. Parents will always give you the best advice no matter how strict they are. They know best. Girls should learn to listen and tell their parents their problems no matter how terrible they are, because they will have better options to select from.Take your education seriously for without it, you cannot succeed.