ABIA DEPUTY GOVERNOR RESIGNS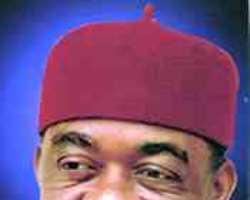 Gov. Orji
Abia State Deputy Governor, Comrade Chris Alozie Akomas, has resigned from office, citing ill-treatment by his boss, Governor Theodore Orji.
In a four page letter of resignation dated July 27, 2010, Akomas decried the ill-treatment meted out to him since he became the Deputy Governor of the state on May 29, 2007.
'We jointly took an oath as Governor and Deputy Governor of the state to perform the duties of our offices and defend the constitution of the Federal Republic of Nigeria', he said.
He said that his former boss, T.A Orji was incarcerated by the Economic and Financial Crimes Commission (EFCC) and was in prison throughout the period of electioneering campaign in 2007, adding that it was by dint of hard work of the former governor, Dr Orji Uzor Kalu, himself and other members of the Progressive People Alliance (PPA) that the election of April 14, 2007 was won while he was in prison in Kirikiri.
'Neither I nor any of the teeming supporters that worked for your victory received any acknowledgement when you mounted the office of the governor or at any time thereafter', he said.
He regretted that throughout the period of his stewardship as Deputy Governor he lived in his village due to lack of comfortable accommodation.
He said that he shared the temporary premises given to him with two other families that neither worked for him nor had any thing to do with him. He stated that the governor so belittled him that Chief Charles Ogbonna, Governors younger brother, who was the Deputy Chief of staff had 'the audacity, ostensibly on your Excellency's instruction to issue queries to me'.
He added, 'my humble effort for you to call him to order met with rude shock. Your Excellency used Executive powers to withhold my allowances and other authorized expenses, with which over the past three years has accumulated to the sum of over N425,037,746.
'In the face of all these, your Excellency defected from Progressive Peoples Alliance (PPA) which elected us to office and joined the All Progressive Grand Alliance (APGA) recently on the second day of July 2010 with out any notice or invitation to me. Suddenly, out of the blues, your Excellency has declared me as your public enemy number one and has surprisingly sponsored impeachment against me'.
Reacting to the resignation, the Special Adviser to the Governor on Media and Publicity, Dr Anthony Agbazuere said that his attention has just been drawn to the news of the Deputy Governor's resignation.
'I want to inform you that today, he appeared before the panel and that the panel has concluded its job waiting for their report.
'I want to say that he has not resigned. For him to have addressed you after appearing means that he has found out that he has no good case. The trick can not work. He still remains the Deputy Governor,' Agbarzuere said.