Prof. Adenike Adeoye: A Heart Of Gold At 70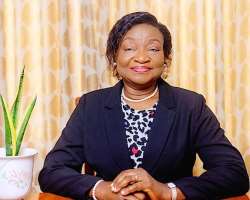 Professor Adenike Odunmorayo Ajoke Adeoye (Nee Adeniyi)
"No one knows for certain how much impact they have on the lives of other people. Oftentimes, we have no clue."
- Jay Asher, American Writer, and Novelist.
"Knowledge becomes power only when we put it into use."
- Anonymous
It was Theodore Roosevelt, the United States president from 1901 to 1909 that said, "No one cares how much you know, until they know how much you care."
Yes, knowledge is very important to humanity. It advances the frontiers of our humanity. It is the klieg light for humanity. It makes it easier to navigate the treacherous valleys, the slippery mountains, dreary oceans, and the mysterious skies of humanity. It lightens the path through the topography of humanity.
But equally important is care. Care nurtures those frontiers. It inebriates our entire humanity with meaning and essence. It nourishes it. It curates it. It conserves it. It fosters it and enhances its flourish. Care exemplifies a great sense of responsibility. It edifies our sense of being.
Knowledge arid of mammoth doses of care is a perfect definition of vacuity. Care without adequate knowledge could be treacherous. The two, compliments each other. Knowledge is the spinal cord of care. Care is the sentiments and emotions of knowledge. They are intricately intertwined.
At 70, she is what the Americans call a 'combo" - a perfect combination of knowledge and care with other appurtenances. She is an apotheosis of deep knowledge and affectionate care combined. She represents hope and has given hope in her profession of ophthalmology. She is a goddess of comfort and has blessed many with comfort. A personification of compassion. Selfless. Considerate. And consistent.
To underscore the value of what she does, our fathers submit that "Oju ni imole ara." Literally, it would translate to "The eye is the light." Without functioning eyes, all things would never be equal as the economists would surmise. The challenges that are products of blindness to daily living are better imagined than experienced.
Thus, when a community is endowed with a gift of an ophthalmologist that is well grounded in the knowledge of her profession, and additionally bestowed with a heart that cares which does not see everything through the prism of money, it is a great day. It is a beautiful day. A wonderful day.
She hails from Ile -Oluji. She was born in Ibadan. She was married to a Modakeke man who had his long, deep roots in Offa. She became a professor of Ophthalmology at the University of Ife, (now Obafemi Awolowo University). And yet she has a deep and strong affinity for Ijesa. A very strong connection to Ilesa. Something akin to a navel string. Like umbilical cord. So strong to the extent of my being spurred to encourage her to claim Ijesa without any prejudice to her strong and natural aprons to Ile-Oluji.
In 1990, she had conducted the first survey of blindness in parts of Osun state, focusing on Ife North LGA. she found out that 1 out of every 100 persons was blind; and out of every 10 blind persons, 5 had cataract blindness treatable by surgery. This stimulated her interest in preventing blindness from Cataract.
In 1995, she wrote a proposal to the Chief Medical Director OAUTHC, Prof. Roger Makanjuola to conduct a pilot programme of free Cataract Outreach in Ife/Ijesa zone. This was approved and sponsored by Management of the institution. She led the team of Ophthalmologists, nurses, and Optometrists to Imesi-Ile to screen people for eye disorders, gave out free drugs as needed, and performed Cataract surgery on many blind persons, giving them back their sight. Thereafter many of such outreaches have been conducted by the Department of Ophthalmology, spearheaded by her.
In preparation for her Retirement at age 70, she was asked what she wanted from the department. Her response was influenced by her caring heart on what she could do to help others. To reduce the population of our people suffering from curable cataract. She had requested from the Department, "Free Eye Camp/Surgery for indigent persons in the community."
Members of the department levied themselves as a mark of respect and love for her. The department solicited for funds from doctors at home and diaspora that had their specialisation through the department. There were also individual sponsors. So, with a team of eye surgeons and nurses, 70 Cataract surgeries were performed free of charge to honour her as a mark for her 70th birthday and retirement. Some 22 of such surgeries were performed at the Ijesaland Geriatric Centre, Ilesa.
From the tranquil days in the bucolic environment of St. Peter's Anglican Primary School, Aremo, Ibadan to the innocuous years at Alafia Institute, Mokola, Ibadan and Queens schools in both Ede and Ibadan, she has traversed the beautiful valleys of Great Ife, the snowy flatlands of Royal Free Hospital, Hampstead Heath, London, to acquire the necessary skills to navigate medical topography of Obafemi Awolowo University Teaching Hospitals Complex, Ile-Ife; University College Hospital, Ibadan, the Natonal Eye Centre, Kaduna, and several health institutions across the planet where she has offered her skills and know-how.
Professor Adenike Odunmorayo Ajoke Adeoye (nee Adeniyi) was responsible for the establishment of an Eye Care Unit at our Wesley Guild Hospital, Ilesa, twenty-two years ago. A year before then, in 1999, she performed the first Extracapsular Cataract Extraction with Posterior Chamber Intraocular lens implantation successfully.
Certified in Intraocular Microsurgery, Professor Adeoye is a Fellow of the West African College of Surgeons and National Medical College in Ophthalmology. She is a member of Oxford Ophthalmological Society, U.K., Ophthalmological Society of Nigeria, Nigerian Medical Association, Medical Women's Association of Nigeria, Medical and Dental Consultants' Association of Nigeria. She is also a Reviewer for African Journal of Medicine and Medical Sciences, Nigerian Journal of Medicine, Science Focus and Nigerian Journal of Ophthalmology.
Prof. Adeoye has been responsible for the postgraduate training of resident doctors in Ophthalmology in Obafemi Awolowo University Teaching Hospitals for about 30 years and have been the Supervisor/Co-Supervisor of Research projects of several Resident doctors pursuing postgraduate programmes while supervising doctoral students.
Prof. Ajoke Adeoye who has attended over fifty seminars, conferences and workshops across the planet always wanted to be back at her roots. She values her serenity very greatly. Her love and affection for her roots in Ile-Oluji obviously inebriates her. Her innate pride in her panegyrics is very palpable.
Omo omoluso, olomo sowon leti igbo igba
E w'eji leti igbo amuda yeeyee
Omo sun, a beere iya e
Omo molamola, omo o p'ola lumu e ojutu
Omo Saseere olowu oputupata
Mrs. Modupe Ajayi- Gbadebo, President of Friends of Ijesaland Geriatric Center (FIGCE) responsible for the sustainability of the beautiful center for our elderly spoke of Prof. Adeoye's caring heart. She noted the beauty of her wonderful soul and underscored the fact that this is what everyone should emulate. She pinpointed that nothing could be a more valuable possession than a caring soul willing to give to the others in need. Mrs. Ajayi-Gbadebo reiterated that Prof. Adeoye was honoured by FIGCE for her contributions.
Chief Akin Akinola's testimony was even more lucid and luminous. The testimony of the greatest Sawe in Ilesa history is worth much more than gold. He spoke glowingly of Prof. Adeoye and her ties to Ilesa and Ijesa land. Her efforts to support the Ijesaland Geriatric Center was the kernel. It was inspiring and encouraging.
This December 9, Professor Adenike Odunmorayo Ajoke Adeoye (nee Adeniyi) turns 70. It is seventy years of caring and giving. She has deployed her knowledge to the benefit of mankind. The Ijesa have benefited from her kindness. We are not unmindful of those who are good to us. She deserves to be celebrated.
Happy birthday to a wonderful heart. A heart of gold. A beautiful soul. A goddess of comfort. A marvelous mother. A fantastic grandmother. A beloved sister. A terrific auntie. And an Ile-Oluji born, Ibadan raised Ijesa Lady.
I wish you many happy returns of this wonderful day.
©Remi Oyeyemi