"My Father Needs To Apologize To My Mum" Actress Exposed The Ill Relationship With Father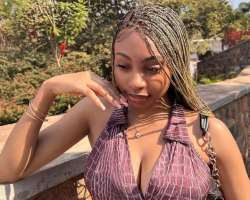 Popular Nigerian actress, Susan Pwajok has exposed the sick relationship her mother and she has with her father. Therefore, she suggested his father to come and apologize to her mother.
In an interview with popular cross dresser, James Brown, the actress resented her father for his low impact in her life.
She also revealed that she has never had a one-on-one conversation with him and they usually pass each other each time she goes to his church but he has never talked to her.
However, she made it clear that the only way she will forgive him is if he apologizes to her mother as she feels he wronged her mother a lot.
She added that she started paying her school fees from when she was in Jss1. According to the actress, her father never wanted her.
She stated that he gave her mother money to abort her but her mum ran away with the pregnancy because she wanted the baby.
She also revealed that her resentment toward men is as a result of the issues going on with her father.
"I feel he needs to apologize to my mum.. I don't have any relationship with him. I would say I have never met him before. I've met him occasionally; but the funny thing is that every time I go to his church by mistake we'd pass each other and drop off train and go back. I've never sit down with him to talk."