Goodseed Daily Devotional 8th December 2022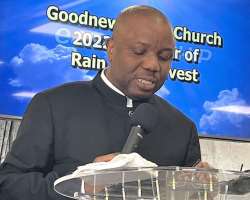 Apostle George Amadi (Lead Pastor: Goodnews Bible Church, London)
Topic:VIBRANCY IN THE SPIRIT – A TRIGGER OF LOVE.
SCRIPTURE: For [if it were possible] I would wish that I myself were accursed, [separated, banished] from Christ for the sake [of the salvation] of my brothers, my natural kinsmen. Romans 9:3, AMP
Our anchor Scripture tells us about Paul the Apostle who was expressing his willingness to go to hell if that could make Israel to be saved. That is, 'Lord, I wish You could send me to hell and save Israel. Cut me off from Christ; send me to hell if that can make You save the Jews.' He prayed the same kind of prayer that Moses prayed in Exodus 32:32. What a heart! Is it easy to pray such a prayer? Not many mortal human beings can pray such a prayer.
Now, what was the secret of Paul the Apostle? What gave him access to such high level of love?
In 1 Corinthians 14:18, Paul the apostle said, I thank my God, I speak with tongues more than ye all.
And in Ephesians 16:18, he said, Praying always with all prayer and supplication in the Spirit….Paul the Apostle was a man of the Spirit.
It is important to note that praying always in the Spirit, vibrancy in the Spirit is one of the factors that facilitate the growth of love. Throughout scripture, it is clearly revealed that the Holy Spirit is the Spirit of love (Romans 5:5, 2Timothy 1:7, Galatians 5:22). Flowing in the Spirit is flowing in love; if you are doing it genuinely, it is love irrigation. The Holy Ghost irrigates our hearts with the love of God.
Beloved, any tongue you are speaking and you don't love people – you rejoice when people fail, you are happy when people lose their job; that holy ghost that you claim to manifest in you through speaking in tongue must be another ghost, not the Holy Spirit of God, the Spirit of love.
Beloved,
1. Take out time to pray abundantly in the Spirit.
2. Ask the Holy Ghost to irrigate your heart with the love of Christ.
3. Refuse to be recruited into bitterness with someone.
PRAYER: Lord, overwhelm me with the Spirit of love. I refuse to live a life of bitterness, hatred and selfishness, in Jesus' Name.
Goodseed Daily Devotional is the publication of Apostle George Amadi- Senior Pastor Goodnews Bible Church London. If you are in the London area do worship with us at 2nd Floor Unit 4 Westmoreland House Scrubs Lane White City NW10 6RE