Drug Trafficking: Ndlea Arrests Business Class Passenger, 5 Other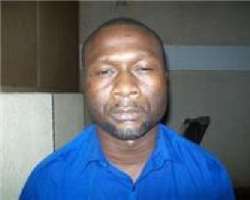 Operatives of the National Drug Law Enforcement Agency (NDLEA) at the Murtala Mohammed International Airport (MMIA) Lagos have apprehended a first class passenger and five others over unlawful exportation of powdery substances suspected to be cocaine. The suspect Iheme Kingsley Agu, 51, who swallowed 1.470kg of cocaine like others arrested over the weekend tested positive to drug ingestion at the central screening area where the Agency has drug detecting scanning machine. While under observation, they excreted a total of 8.190kg of cocaine.
NDLEA Airport Commander Hamza Umar who confirmed the arrests said that an average of 4 suspects is apprehended over drug trafficking weekly at the airport. According to Hamza, Igwe Chimezie Jonathan, 46, ingested 1.315kg, Vardakas Ikenna,21, ingested 880 grammes, Nwanze Clifford, 32, ingested 1.120kg, Eyituor Bright, 24, ingested 1.350kg and Enemchukwu Okwudili Sunday, 46 ingested 2.055kg.
"All six suspects are in our custody pending arraignment in court" Hamza stated. He explained that after an arrest is made, the suspect is placed under observation if the mode of drug concealment is ingestion. "One of the crucial evidence needed for prosecution is the drug, therefore we observe them to excrete the drugs which we subject to scientific field test using the United Nations testing kits" Hamza added.
Iheme a father of two children from Imo State lives in Port-Harcourt where he works as a property consultant. He was to board a Lufthansa flight to Frankfurt when he was intercepted by anti-narcotic officers. He swallowed 139 wraps of cocaine that weighed 1.470kg. Iheme attributed his involvement in drug trafficking to dwindling fortunes in his business. "It is painful that I had to end up this way. I never thought of drug trafficking in my life but circumstances forced me into it. I ran into recession and lost everything" Iheme stated.
NDLEA Chairman/Chief Executive Ahmadu Giade said that the arrest of Iheme was made possible because there is no preferential treatment for passengers. "We subject every passenger to same check irrespective of the class of ticket and status. Our record shows that both the rich and the poor are susceptible to drug trafficking. The standing order is that all passengers must be screened" Giade stressed.
Igwe Chimezie Jonathan an automobile parts dealer in Owerri, Imo State was to board an Air France flight to Paris with 70 wraps of cocaine in his stomach which he ingested at Owerri. The father of four children said that the seizure of his goods in Port-Harcourt by customs officials forced him into the criminal act. "My goods were seized in Port-Harcourt by customs and since then I have been facing tough financial challenges. Even to cater for my family is difficult. I swallowed the drugs in Owerri and took a bus to Lagos" Igwe stated. Enemchukwu Okwudili Sunday, a Lagos based trader was also nabbed while attempting to board a KLM flight to Amsterdam. He had 90 wraps of cocaine weighing 2.055kg. Enemchukwu who hails from Anambra State also blame his involvement on financial predicament.
Vardakas Ikenna that works in London was arrested on his way to London in a Virgin Atlantic flight. Married with a child, he ingested 55 wraps of cocaine weighing 880 grammes. He hails from Anambra State and said that he had been out of job in London and needed money to sustain himself and his family. Nwanze Clifford who works in Greece was apprehended during the screening of Emirate passengers to Dubai. He was to connect another flight from Dubai to Athens in Greece. He claimed to be frustrated due to indebtedness. He swallowed 61 wraps of cocaine weighing 1.120kg. Another drug suspect, Eyituoyor Bright who works in Italy equally had 85 wraps of cocaine in his stomach when he was caught. He hails from Delta was to board Alitalia flight to Milan.
All suspects will be charged to court soon.