UNIVERSAL BANKING ILLEGAL – SANUSI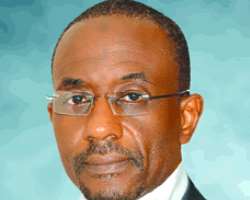 Sanusi
Governor of Central Bank of Nigeria, Mallam Sanusi Lamido Sanusi has given reason why the universal banking concept, was abolished. Speaking at the Business Hallmark Roundtable, on the topic, 'The CBN Reforms and Future of the Banking Industry,' in Lagos Sanusi said the Banks and Other Financial Institutions Act (BOFIA) clearly states that insurance and stockbroking were not related to banking and as such cannot be banking.
He said: 'Go and read BOFIA. BOFIA is very clear on this; that banking does not include insurance and stockbroking. CBN cannot legislate on this because it does not have the authority to define insurance or stockbroking as banking when BOFIA says it is not.'.
Besides, the CBN governor said every bank that operates in the country must be ready to subject itself to regulation of the apex bank. He noted that it is wrong for any bank management to take risk with shareholders and depositors' fund without their knowledge.
Sanusi argued that shareholders are free to set up their Asset Management, Insurance and Pension Fund companies with a caveat that this must not be done or funded with depositors' fund.
Sanusi said the granting of licences to banks was an indication that the CBN had certified them to be fit and proper to take custody of depositors' fund without fear as to whether the bank would go under.
'So, if we cannot guarantee the authenticity of the licences we give to banks through strict regulation and enforcement measures, we don't have a business being the regulator in the banking industry, because our mandate is to ensure safety of the depositors' fund,' he noted.
On the future of the banking sector, Sanusi said CBN was steadily making progress, especially towards the revival of the real sector of the economy, with the disbursement of about N130 billion to manufacturers last week in Abuja.
The move, according to him, was meant to revive the comatose real sector of the economy, which, he said, ought to be the highest employer of labour in the country. He lamented that it hs not been so due to lack of access to credit from banks to the real sector.
In this regard, he said the CBN had held several meetings with banks' chief executive officers on ways of resuming credit facilities to the real sector of the economy. And this, he said, has started yielding results and would come to fruition very soon.
The CBN governor explained that no economy could grow without a robust contribution from the real sector of the economy. He noted that this is the major reason the CBN is concentrating its efforts on reviving the real sector.