Aisha Buhari: Amenty International Demands Release Of Jigawa Student Detained By The Nigeria Police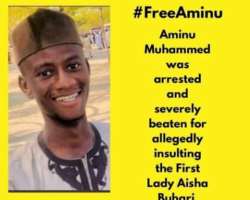 Amnesty International has asked the Nigerian Federal Government to free the arrested student of the Federal University of Jigawa, Aminu Mohammed, who is currently in the detaination of the Nigeria Police.
Mohammed was reportedly arrested over a tweet accusing the Nigerian First Lady, Mrs Aisha Buhari, of growing fat on Nigerian taxpayers money.
Consequently, condemnations from notable Nigerians including social activist, Aisha Yesufu, has continued to trail, knocking Mrs Aisha Buhari for allegedly using her power against the student.
Amnesty International also claimed that Amimu was severely beaten for allegedly insulting the First Lady, Aisha Buhari.