Goodseed Daily Devotional 30th November 2022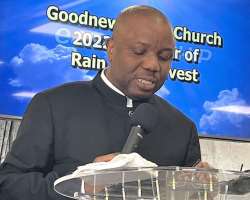 Apostle George Amadi (Lead Pastor: Goodnews Bible Church, London)
Topic: PRAY THROUGH.
TEXT: (JOHN 16:24) 'Hitherto have ye asked nothing in my name: ask, and ye shall receive, that your joy may be full".
Ednan R. Worrel while waiting at a bank counter in Liverpool began to print 'PRAY THROUGH' on a blotter and filled it from top to bottom. A business man came into the bank that had grown discouraged with business troubles. His eyes caught the long column of the publication and exclaimed, 'That is the very message I needed. I will pray through. I have tried to worry through in my own strength and merely mentioned my troubles to God; now am going to Pray the situation through until I get light.'
That is what all of us need- to pray through. Never give up a legitimate request, pray through to resounding success, good health, divine supply, financial breakthrough and all other things. "That are freely given to us of God". Why worry or cry when you can pray. Stop worrying and start praying, never stop until you have prayed through. All things are yours, ask in faith and you will have fullness of joy in JESUS NAME. What God can't do doesn't exist. Never give up it's not over yet. Pray joyfully and there would be nothing to worry about.
PRAYER: Father deliver me from Prayerlessness and lack of faith in JESUS NAME.
Goodseed Daily Devotional is the publication of Apostle George Amadi- Senior Pastor Goodnews Bible Church London. If you are in the London area do worship with us at 2nd Floor Unit 4 Westmoreland House Scrubs Lane White City NW10 6RE