Goodseed Daily Devotional 29th November 2022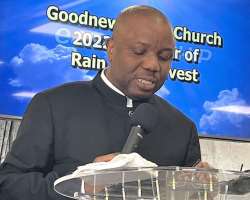 Apostle George Amadi (Lead Pastor: Goodnews Bible Church, London)
Topic: PERSIST TO PREVAIL.
TEXT: 1 SAMUEL 30:10. "But David pursued, he and four hundred men: for two hundred abode behind, which were so faint that they could not go over the brook Besor."
Effort only fully release their rewards after a person refuses to quit- Napoleon Hill. A quitter never wins and a winner never quits. Six hundred chosen men were supposed to go to the battle to recover their losses from the enemy. From the account of 1Samuel 30, two hundreds soldiers gave up the fight because of fatigue and were ready to forfeit their properties and lose their family members. Unperturbed by their reactions the unrelenting four hundred soldiers went ahead.
With divine assistance, they fought gallantly, won and recovered all that the enemies had carted away. Are you working on a difficult task? Don't be frightened by the enormity of the assignment but look up to God for help. Thomas A Edison says "Many of life's failure are people who didn't realise how close they were to success when they gave up."
You are closer to your breakthrough than you least imagine. Just one more stroke and another stroke and you get to the shore! Don't give up. Nothing venture, nothing win. You must make up your mind to reach your destination and achieve success.
PRAYER: Father in the name of Jesus, help me to persist in my pursuit till I get the expected result in Jesus name.
Goodseed Daily Devotional is the publication of Apostle George Amadi- Senior Pastor Goodnews Bible Church London. If you are in the London area do worship with us at 2nd Floor Unit 4 Westmoreland House Scrubs Lane White City NW10 6RE