In Consonance With The Cognomen: 100 Years Of Egbe Atunluse Ile Ijesa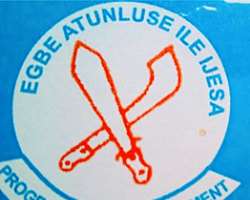 "A name represents identity, a deep feeling, and holds tremendous significance to its owner."
— Rachel Ingber.
"Proper names are poetry in the raw. Like all poetry they are untranslatable."
— W.H. Auden.
If you understand our culture and you are in tune with Yoruba cosmological interpretation of our traditions as exuded via our values, you will understand why Yoruba placed "Oruko" (name) on especial pedestal. A kind of socle that is sui generis. Like a plinth that is peculiar. The Yoruba take "Oruko" with all seriousness. In Yoruba belief system, "Oruko" is seraphic. It is empyrean. It is kind of celestial. Very spiritual.
Thus, when a child is born in Yoruba land, the parents take a critical look at their environment before giving such a child any name. "Ile la nwo ka to s'omo l'oruko."Names, often, are tied to the destiny of a child and can be a self-fulfilling prophesy in the life of a child. This is an exercise that is not treated with levity. It could not be trivialized. This practice in Yoruba culture extends to the creation of organizations when appropriating a name.
From this perspective, it is easier to understand the cognomen, Egbe Atunluse Ile Ijesa – Ijesa Improvement Society. This wonderful and inspiring organization has a trajectory that is collegial with its cognomen. A sort of symbiotic existentiality. Harmonious and congenial. Nothing could be more beautiful than an organization living out the true meaning of its cognomen - Egbe Atunluse Ile Ijesa.
For one hundred years, Egbe Atunluse Ile Ijesa has been a veritable anchor of progress in Ijesa Land. It has been a clamp and fostered unity of purpose in Ijesa land. It has been in the forefront, paving splendid paths for progress and developments for Ijesa land. Like the Western Star, (not Northern) it has remained constant in the welkin of developmental initiatives in Ijesa land.
For an organization to remain coherent and relevant in the lives of a people, such as Ijesa – a people so independently minded, industrious, educated, self-assured and questioning to ensure accountability of their leaders – for one hundred years is, by any means, not an easy task. It is a titanic task. A great accomplishment. Very inspiring. Motivating and stimulating.
According to History of Egbe Atunluse written by M. A. Ifaturoti & O.I.A. Orolugbagbe, one Daniel Omojola Anjorin in 1920 first put forward the idea of forming an Ijesa forum not only to discuss matters that were of interest to members and to the entire community but also to actualize their discussions and decision. Popularly called Balogun Yoruba in Ilorin, Pa Daniel Omojola Anjorin eventually became the fist President of Egbe Atunluse Ile Ijesa.
The Egbe Atunluse Ile Ijesa otherwise known as The Ijesa Improvement Society was officially born in Ilesa in 1922. This date ignores the gestation period of about two years, as well as the fact that the first available records of the Egbe stated that the young Ijesa Improvement Society was inaugurated in November 1923. If the exact year of the inauguration is rather contentious, what is certain is that the formation of the Egbe came at a time when the Ijesa were facing multifarious challenges socially, economically, and educationally.
The authors of the History of Egbe noted that from Ilesa, they were to spread out their activities. Very important to them was to settle quarrels and rifts not only between Chiefs, high and low, but between families, because truth and straight talks were the principles which guided the activities of the Society.
The Egbe in all its activities did not leave anybody in doubt that what the Egbe Atunluse called IRE ATI IGBEGA ILE IJESA was and has been the cornerstone of its programme in its formative years. It stressed inclusivity. It extended its tentacles to other towns and villages in Ijesa land. To this end, the authors of Egbe's History pointed out that "the content and geographical spread of the Egbe's membership were very important to ensure an all-round success of its programmes and in all its spheres of activities."
For this very reason, "its catchment area for membership was widened to cover the whole of Ijesaland. ' By 1928, the egbe had in its membership roll 343 names spread all over ijesaland. There were people like William Jiboye from Ibala, D.A. Mogbonjubola from Erin Odo, S.P.O. Osundeko from Idominasi, J. O. Ajibola from Iwoye, E.T.A. Adenikan from Iwara, J. A. Oluwafemi from Erinmo, J. O. Bolarinwa from Iperindo, S. A. Aderibigbe from Ilerin, J. O. Fatiregun from Ifewara, E. F. Awotile from Esa-Oke and Ayeni Aran from Ibodi among others.
The wind of women liberation that was blowing all over led to the creation of a virile and formidable Ijesa Ladies Improvement Society (a.k.a. Egbe Atunluse Obirin Ile Ijesa) which was established in 1946 under the able leadership of Chief Mrs. V. A. Thompson. It is worthy of special mention that Ijesa Ladies Improvement Society remains a formidable partner in their commitment to the development of Ijesa land.
"The preservation of the cultural values of the people, industrial/commercial emancipation and the educational development of the entire citizenry are the three cardinal principles of the founding fathers of Egbe Atunluse Ile Ijesa. To this end, the Egbe has been uncompromisingly committed to these lofty principles and has always remained at the vanguard of the crusade to achieve excellence in those fields."
In its one hundred years, the Egbe has contributed in so many ways to the development in Ijesa Land. In my own estimation, the most important and impacting achievement of the Egbe is the founding of Ilesa Grammar School in 1934. The school has been a tool of expression of our Ijesaness. It is the symbol of our courage, fortitude, vision, and mission. It represents ungirded expression of our essence, heritage, pride, and determination. It is the encapsulation of our cultural expression as intertwined with our acceptance of modernity. It penetrated the rubrics of our ways of live without disrupting them.
In 1954 Obokun High School, Ilesa, also came into being. The Egbe also took the lead to raise funds for the relief of West African Students in London (including students of Ijesa Origin) when Chief Ladipo Solanke came on a visit to Ilesa in 1924. In 1945, the Egbe raised funds for scholarship award to Ijesa Students in Yaba College and gave three (3) Ijesa sons scholarship to train in Fourabay College in Sierra Leone and were offered teaching jobs on their return in Ilesa Grammar School.
Other areas where the Egbe has taken bold steps included the Ilesa Water Supply Project; Oora River Channelization; Prevented the efforts to shut down the Leventis Farms in Ilesa, donated money to activate the treatment of kidney to Wesley Guild Hospital, and has taken leadership role in crisis resolution on matters that have threatened the unity of Ijesaland and those that were also capable of tarnishing the sacred institution of the Owa Obokun of Ijesaland. The dignity, honour and glory of Ijesa land is paramount to the Egbe, among other things.
There are eighty (80) named as being the founding members. On the list you find the names of who-was-who in Ijesa land in that era. On the list are found names that are autochthonous to Ijesa land like that of Lejoka Abiola, Lemodu Ajayi-Obe, Omirin, Hastrup, Gureje-Ashogbe, Ogundiya, Olowookere, Osungbohun, Owoeye, Ibironke, Apara, Ibidapo, Ifaturoti, Famofo, Fajemisin, Fagbemi, Falomo, Falana, Fapohunda, Ashaolu, Apantaku, Alege, Ajanaku, Aborode and many others.
The Egbe has had eleven (11) past presidents in its history. It has had 12 secretaries. The presidents always had lifetime tenure until recently when it was changed to 2-year tenure. The current members are 80 in number, at home and diaspora. The Egbe is currently being piloted by Prof. Adeniyi Obi as the Acting President and ably supported by Prince Boye Adegoke, Engr. J. A. Adelu, A.haji L.O. Arewa and Mr. Oluwole Ajewole.
The Egbe deserves commendation from all sons and daughters of Ijesa. This celebration is well deserved. We must all give our support to the Egbe to be able to continue its glorious trajectory for the progress of our dear and beautiful Ijesa land. Like Shannon Alder advised, this is an opportunity to "carve your name on hearts, not tombstones."
©'Remi Oyeyemi

Disclaimer:

"The views expressed on this site are those of the contributors or columnists, and do not necessarily reflect TheNigerianVoice's position. TheNigerianVoice will not be responsible or liable for any inaccurate or incorrect statements in the contributions or columns here."