Goodseed Daily Devotional 23rd November 2022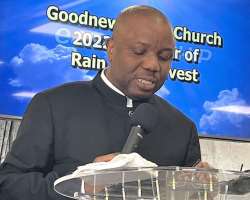 Apostle George Amadi (Lead Pastor: Goodnews Bible Church, London)
Topic: INCENTIVES FOR INTEGRITY.
TEXT: PROVERBS 11:3. "The integrity of the upright shall guide them: but the perverseness of transgressors shall destroy them."
It was said of a man who was filling out a job application. One of the questions was "Have you ever been convicted of a felony or a misdemeanour?" It was a yes or no question, so he marked no. The next question was "why?" And he wrote, "I haven't been caught yet!. Because God doesn't immediately punish every wrong doing, men think he disregards sinful acts. But the truth is that God is longsuffering. This is the main reason why sinners continue in their evil ways. Rather than repent and turn to God, they are emboldened to keep on sinning. A sinner can manoeuvre his ways and escape the long arm of the law; he can't escape God's judgement.
Every unrepentant sinners and backsliders face the prospect of spending eternity in Hell Fire. If you are a sinner, repent and turn away from all your sins before you are made to face the great Juge of the universe. The Lord will pardon you if you repent and forsake your Sins today. Turn away from all your sins. The more you indulge in sin, the more difficult to get out of it.
Prayer: Lord, give me the grace to live honestly and holy with integrity in Jesus name. Amen.
Goodseed Daily Devotional is the publication of Apostle George Amadi- Senior Pastor Goodnews Bible Church London. If you are in the London area do worship with us at 2nd Floor Unit 4 Westmoreland House Scrubs Lane White City NW10 6RE