2023: Urging CAN To Beware Of "Can Of Worms" As It Keeps Endorsing Political Aspirants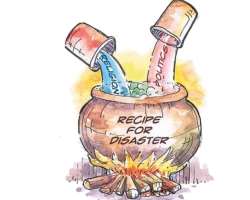 Whenever I visualize the character traits that qualify anyone to be called a "Man of God", the image that literarily scrolls across the screen of my subconscious mind is that of a godly personality or spiritual leader; whether being a Christian or a Moslem, that is reputed to be serving any given community well. From my mind's eyes, I usually see a "Man of God" as someone who can rise above politics and speak truth to power. Someone who does not take sides but listens to all sides with respect. Someone whose words can calm nerves and hearts and help extinguish anger.
Again, through my mind's eyes, I have for the umpteenth time seen some prominent "Men of God", particularly those designated to be General Overseers getting too close for comfort to top-notch politicians that hold sway across the three tiers of government, even helping them behind the scenes on their political campaigns.
Given the foregoing, not a few Nigerians are usually left to guesstimate that their highly revered "Father in the Lord" seemed not to have risen above partisan politics. In my view, this kind of relationship speaks volumes, particularly as such visits are capable of providing grounds for scandalmongers to allege that "Ghana-must-go" bags must have been given away as gifts. Without any iota of exaggeration, such a category of gossipmongers may erroneously think that monies and fabulous gifts are cementing the bond of such a relationship.
Against the foregoing backdrop, it is expedient for our "Men of God" to become wary of endorsing political candidates that desperately ran to them for endorsements as campaigns ahead of the 2023 general and presidential elections are ongoing. Without pondering over the rationale behind the authorship of this piece, it is expedient to urge our religious leaders that are affiliated with CAN to eschew getting too close to political aspirants as it is not comfortable to most political observers, particularly to this writer. To put it aptly, our religious leaders should eschew playing political games. They should stop endorsing and vouching for political candidates, and stop using their role as spiritual leaders to minister to candidates and office holders, and more importantly to minister to their flock. They should be a safe refuge for Nigerians looking for comfort in a confusing, complex, and scary nation. They should not be advocates for political parties and candidates who compromise their ability to lead.
In fact, one may not be wrong to say that there is a tendency for the partisanship of a "Man of God" to water down the loyalty he once earns from some of his followers that are not affiliated with the party of the candidate he endorsed. For instance, it will be recalled that in the USA that Franklin Graham used his religious pulpit to advocate for the election of Donald Trump. There is no doubt that among his followers that there were supporters of Clinton or even other candidates. It is pragmatic to note that this kind of situation engenders bad blood within congregations.
In my opinion, this should not be allowed in Nigeria's politics given the fact that when a religious leader weighs in on behalf of a candidate, his followers surely assume that the leader believes he is speaking on behalf of God. Except there is no evidence that God takes sides in political campaigns and these leaders know it. So, endorsements like these can only cause conflict within Christendom.
To buttress this view, it is expedient to say that the Presidential candidate of the All Progressives Congress (APC), Asiwaju Bola Ahmed Tinubu recently met with the leadership of the Christian Association of Nigeria (CAN) as part of engagements for the forthcoming 2023 general election. He was reported in the media to have been at the CAN headquarters at the Christian Ecumenical Centre in Abuja at about 2.30 pm on the day of the meeting. Among those that accompanied Tinubu on the visit were his wife, Oluremi Tinubu, Governors Hope Uzodinma (Imo), Abdulahi Ganduje (Kano), Dave Umahi (Ebonyi), Speaker of the Federal Representatives, Hon. Femi Gbajabiamila, former Abia state governor, Orji Uzo Kalu and former governor of Benue state. Senator George Akume
As gathered, the meeting with the CAN leaders was held to afford the APC candidate the opportunity to present his plans and also respond to thorny issues that have trailed the APC's presidential campaign, among which is the Muslim-Muslim ticket that the Christian body has kicked against.
In a similar vein, as at the time of producing this piece; which is today, November 22, 2022, the presidential candidate of the Peoples Democratic Party (PDP), Atiku Abubakar, was reported to have arrived at the Headquarters of the CAN for an interaction with the Christian leaders.
It has been gathered that CAN had commenced interaction with presidential candidates where they presented their proposals.
Against the foregoing views, it is expedient to urge the leadership of CAN to be wary of endorsing politicians who are desperately aspiring to win in the oncoming 2023 general and presidential elections for it not to experience a situation where a CAN of worms would be opened against it by political observers that have naughty investigative dispositions.
There is no denying the fact that Nigeria's political history; documented or undocumented, is replete with situations where Christian evangelicals have lent support to populist politicians. In such situations, our clergymen cannot convincingly douse the rumour that money did not apparently take the centre stage in such meetings. Without any iota of exaggeration, this could lead to serious compromise on the religious leaders' ability to stand up to the political class. As a result, not a few politicians, particularly during electioneering, have caused a furor over the millions of naira they have been donating to churches and mosques as they unarguably sought to create an image of themselves as God-fearing generous givers, as demonstrated in many churches they have visited, notwithstanding the questionable source of the money donated.
To this end, it would be recalled that the allegation, a few months ago, that several ''Bishops'' who attended the unveiling of Kashim Shettima as the vice presidential candidate of the APC in Abuja were rented, caused a stir on social media as not a few Netizens were unanimous in their comments that the purveyors of the allegation were not wrong that the "Bishops" were hired to attend the event.
In my view, our politicians should desist from running to "Men of God" for endorsement. The reason for the foregoing advice cannot be farfetched as it is an open secret that religion "cleans" up people, and gives them a veneer of credibility, respect, and acceptance, and that is the reason why politicians align themselves with the Church.
Again, it is no more a secret that when politicians campaign they run to churches, as they seek to take advantage of the huge population that made up Christendom. At this juncture, it is expedient to conjecture that with the somewhat symbiotic relationship between the politicians and the clergies that the possibility of religious leaders using politicians to access state resources and political power cannot be ruled out. In return, politicians give the clergies not just monies, but personal appeals, social power, and a collective sense of self-importance. Such clergies crave to be seen as special "big men and women of God" who are powerful, rich and have friends in high society. One would hope that spiritual leaders would be the salt of the earth, and they would champion social justice causes, but unfortunately, like the political class, they seek power, prestige, money, and state recognition for their own sake.
Given the foregoing, it is germane to urge our "Fathers in the Lord" to be wary of politicians that are desperately seeking endorsements to avoid mischief makers to commence opening "Can Of Worms" against them as a way of mischievously killing their respective ministries.
At this juncture, permit me to conclude by saying that I have for the umpteenth time read the Bible cover to cover, and never once did I see a story of Christ or his disciples getting involved in a political campaign. They were one hundred percent focused on spreading the Gospel, and I am sure that is true of other religions as well.
Disclaimer:

"The views expressed on this site are those of the contributors or columnists, and do not necessarily reflect TheNigerianVoice's position. TheNigerianVoice will not be responsible or liable for any inaccurate or incorrect statements in the contributions or columns here."