Expect Sufficient Supply Of Petroleum Products During Yuletide - Sylva
...crude Oil Production Surges To 1.5mbpd.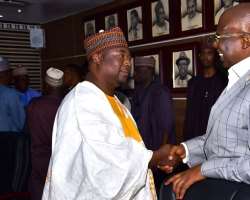 The Honourable Minister of State for Petroleum Resources, H.E Timipre Sylva, has announced that all is in place for PMS (Petrol) and other Petroleum products sufficiency during the imminent Yuletide season and beyond.
The Minister made the cheering announcement at the NNPC towers on Monday, in a stakeholders meeting comprising the Group Chief Executive Officer of NNPCL, Malam Mele Kyari; the Authority Chief Executive of NMDPRA, Engr. Farouk Ahmed; leadership of MOMAN, DAPMAN, IPMAN, NARTO, PTD and other energy on-radar players.
Part of the Minister's speech read:
'I would like to use this important medium to express Mr. President's appreciation on the increased crude oil production levels to 1.5 million barrels/day. Congratulations to all of you, especially the GCEO of NNPC Ltd for the sustained efforts in collaboration with all of you, the Armed Forces, States and Communities in curtailing the menace of crude oil theft.
Mr. President expects same commitment by all of us in ensuring the sustained supply and distribution of Petroleum Products across the Country. I have no doubt in my mind that through transparency and collaboration, we all can meet the deadline given to us during the just concluded Ministerial Retreat to commence domestic refining of Petroleum Products by end of Q2, 2023 to reduce the fiscal deficit by eliminating our dependency on the importation of Petroleum Products which threatens our National Security.
Accordingly, I charge all of you to ensure optimal supply and distribution of Petroleum Products across the Country, especially as we approach the Yuletide. As a government, we are sympathetic to the economic plight brought upon ordinary Nigerians due to the soaring global energy demand triggered by the Russia-Ukraine conflict, which has strained the global supply of crude oil and its resultant effects.
In the same vein, the recent floods experienced across the Country have disrupted the distribution logistics infrastructure which is needed for the efficient accessibility of Petroleum Products by Nigerians; my home State, Bayelsa happens to be the most severely affected and I personally thank NNPC Ltd for their valuable relief efforts to the displaced. My sympathies to all Nigerians, we are working round the clock to ensure ease in the availability of Petroleum Products.
I expect a Yuletide supply, storage and distribution plan in the next 48hrs for presentation to FEC to assure Nigerians of Government's commitment in line with the contract we signed with the Nigerian people at the inceptions of this administration in 2015. Product stock levels must remain adequate, sufficient and available to support the various Nigerian families traveling without any encumbrances.
Most importantly, Mr. President has charged the Ministry of Petroleum Resources during the just concluded Ministerial Retreat to amongst others, urgently implement Priority 3 of the communique to achieve Energy Sufficiency in Power and Petroleum Products.
a. PIA Implementation
b. Consumption figures and products tracking
c. Rehabilitation of NNPC Ltd refineries, among others'
The GCEO of NNPC, Malam Kyari in his statement assured of unhindered supply of PMS and other Petroleum Products availability during the Yuletide and well into the New Year
He said 'I can confirm to you Hon. Minister we have comfort level supply, we have line of sight around all our suppliers, we have confirmation on all our cargo up to the end of December, so we do not see any glitch'
The Authority Chief Executive of NMDPRA, Engr. Farouk Ahmed also towed in line 'As of PMS, we have national sufficiency. As of today, we have 2.1BL broken down in segments on both land and marine for a total of 34 days sufficiency.
Our threshold is normally 30 days sufficiency but as for today, we have 34. 10 days equivalence on land and 23.8 is on marine.
Obviously, our objective is to push that marine on land. Also to have even distribution across the zones Port Harcourt, Warri, Calabar, Oghara and of course Lagos.
Concerning AGO, we have 2.2 billion liters as Malam Kyari has said, giving us 28.8 days sufficiency; while ATK which is another critical product is about 22.8 day sufficiency he concluded.
The stakeholders, leadership of IPMAN, NARTO, DAPMAN, MOMAN and PTD held a press conference with the Minister and other heads of parastatals, each party affirming a Yuletide of PMS and other Petroleum Products sufficiency.
JULIUS BOKORU is the Special Assistant On Media And Public Affairs to H.E Timipre Sylva, Honourable Minister of State, Petroleum.