"Ebonyi PDP Not Afraid Of " Ebubeagu Security Outfit ", PDP Guber - Candidate.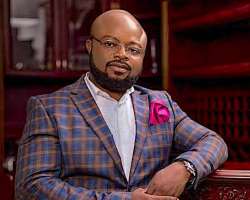 Dr Ifeanyi Chukwuma Odii (Ebonyi state Peoples Democratic Party (PDP) Candidate)
The Governorship candidate of the Peoples Democratic Party (PDP), in Ebonyi state, Dr Ifeanyi Chukwuma Odii has reiterated the prepardness of the party to wrestle power from the ruling APC in the next general election and that they are not scared by the activities of the "Ebubeagu Security Outfit".
Odii announced that the party has united ahead of 2023 general election, adding that normalcy has finally returned to the party after the supreme court dismissed all the appeals filled by the aggrieved stalwarts.
There has been crisis in the party which deepened after the primaries with suits and counter suits filled by aggrieved chieftains of the party mostly those that participated in the primaries.
Speaking to journalists shortly after the unity meeting held at the party Secretariat in Abakaliki Odii said, the essence of the meeting was to show that the party is united fighting for one cause.
"Yes we have to unite ourselves from the house before we talk of uniting Ebonyi state. Part of what we are going to do in the state is to create an atmosphere of unity, a unity that will foster togetherness amongst us, a unity that will see us as one people, that is what you see us doing today.
"We can't do it without starting from the house, PDP is one family and PDP has come together, PDP is a winning party and PDP is a party to beat.
" I don't think anybody is hanging around, we are going to have expanded stakeholders meeting soon where you will see all the faces together and every one of them is to work for the betterment of PDP.
On efforts to curb attacks on PDP members, especially the recent attack on Mr. Abia Onyike, he said, "What we are doing about it is that we are not relenting, we are trying to study it very well, PDP is not scared of anything or any Ebubeagu. We are to study the events and then we will approach it the way we think best and stop it.
Earlier the state party Chairman, Tochukwu Okorie said the party is one, United, and stronger, assuring that the party will coast to victory come 2023 general elections.
The meeting was attended by the Executive Committee members at the state, local government and 171 wards in the state.