Sylva's Aide Writes Oseni Rufai Of Arise TV, Explains......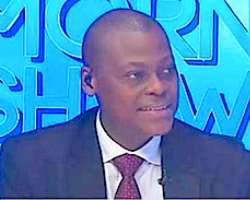 Dear Oseni Rufai,
I write to answer your Three questions on Arise TV about Chief Sylva's visit to Bayelsa State in a minute and a half.
Question 1. Was Sylva campaigning in Bayelsa State?
Answer 1. No. Sylva did not campaign in Bayelsa. The 2-day outing was strictly on humanitarian grounds. The first day, November 3, Chief Sylva arrived Yenagoa with the Executive Secretary of the Nigerian Content Development and Monitoring Board (NCDMB), Engr. Simbi Kesiye Wabote.
Both men drove to inspect some human and infrastructural damage done by the (now receding) flood along with top directors of the NCDMB. Sylva distributed relief items to Bayelsans who have been negatively impacted by the flood and kickstarted a far-reaching, state-wide medical outreach. The idea of the medical outreach is simple: epidemics always comes at the wake of floods of this magnitude. The Minister also visited IDP camps and distributed more relief items there.
Note, dear Rufai and readers, that through his aides, the Minister intimated the Governor's office that there would be an official visit the next day being 4 November , H.E Senator Oluremi Tinubu and other high profile guests to the State to empathize with the people. So it made more logistical sense proposing November 4 for the visit which the Governor and his team apparently (initially) obliged.
Question 2. Did the Minister meet the Governor?
Answer 2. No, there wasn't such meeting. Any chance of that was truncated by the protocol at Creek Haven. As stated above, the Minister reached out to Government House, informing them that there would be a courtesy call comprising of Senator Tinubu, himself and other top government functionaries.
The functionaries at government House responded in the affirmative and even gave a time for the meeting.
When it was the day for the meeting, aides of the Minister couldn't contact aides of the Governor. Curiously, virtually All lines from Government House were either switched off or 'not reachable'. This aide and writer also made futile calls. Left with no choice, since there was a need to show respect to whom due, the convoy left for government House with the hope that the initial agreement stood, but that was not to be, the convoy was stopped at the gate. As in the press already, a single, medium-level security operative explained to a puzzled Senator Mrs Oluremi Tinubu that the Governor just left for 'flood inspection' and other convenient reasons.
The team subsequently left and headed for the IDP camp, first at the Ox-Lake. H.E Timipre Sylva was Governor of Bayelsa state once and would derive no pleasure in attempting to humiliate another Governor.
Question 3. The Fez Cap.
Answer 3. The fez cap Sylva had on was what it was: a fez cap, A brimless felt hat shaped like a truncated cone, used mainly to defy sun and other adverse weather conditions. Used as fashion nowadays too. It is inconsequential if the cap had the APC design somewhere at the sides.
You must notice, dear Oseni and readers, that the Minister always have on him a tag of President Buhari's picture on his left breast, even on official duties. This, in no way, suggests campaign.
We know what a political campaign in Nigeria is when we see one. There were no crowds with flags nor speeches promoting any candidate or party. It wasn't a campaign, campaigns are not done at IDP camps and for specific reasons the Minister didn't go to the state APC secretariat nor did he visit the campaign offices of the Party's candidates.
Both Mrs Tinubu and Sylva repeatedly told the press this was not a campaign. Or are there IDP camps housing only PDP or APC members? No. Like the Minister endlessly said, the flood is immuned to political prejudices. Both APC and PDP received equal share of the disaster. Sylva has been governor of Bayelsa state and was a governor for all, that stance has not changed nor his love for ALL Bayelsans ebbed.
PARTING WORDS
Dear Oseni, it is our utmost hope and expectations that these little details will bring, for the sake of anything right and posterity, some clarity to the events of the last 85 hours in Bayelsa State.
We wish you well and we are proud of your professionalism and your consistency in the great job you are doing not just for Arise TV but for our dear nation as well.
Thank you Oseni Rufai, we celebrate you.
JULIUS BOKORU is the Special Assistant On Media And Public Affairs to H.E Timipre Sylva, Honourable Minister of State For Petroleum Resources.