NLC Kicks Against Lamido Sanusi's 'Anti-People Antics'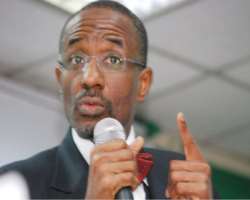 PHOTO: CBN GOVERNOR, SANUSI LAMIDO SANUSI

ABUJA, July 29, (THEWILL) - The leadership of the Nigeria Labour Congress (NLC) has kicked against statements credited to the Governor of Central Bank of Nigeria (CBN), Mallam Sanusi Lamido Sanusi, to the effect that total deregulation of the downstream petroleum sector and increase in electricity tariff were inevitable.
The CBN governor had on Tuesday, July 27, 2010, while receiving the Group Managing Director of NNPC, Mr. Austen Oniwon, stated that deregulation of the downstream sector of the petroleum industry was inevitable. The following day (July 28, 2010), Sanusi was again quoted to have called for an immediate increase by 200 per cent in electricity tariff.
Earlier in June, Sanusi had called on the Federal Government to remove subsidies on petroleum products because he felt the beneficiaries of subsidy are members of an oil cabal and not the people for whom it was meant.
NLC said the comments by Mallam Sanusi were not only misleading but also totally anti-people in the face of excruciating mass poverty in the land.
The Central Labour organisation said while it holds Mallam Sanusi in very high esteem for what it interprets to be his deep sense of patriotism, "we are gradually becoming very uncomfortable with his utterances which have come to portray him as an arrowhead of government's anti-people policies".
"For us and our allies, Sanusi's panaceas to the crisis in the oil and power sectors are not reflective of the fundamental prerequisites needed by those sectors to be functional and therefore can never be the solution. As a fact, Nigerians are not just against arbitrary increases in prices of products and services; we are against such policies because past price increases have never translated to improved services or products availability and Mallam Sanusi knows this," the statement said.
On electricity tariff, in particular, Congress believes that the basic step government needs to take is to first and foremost improve on power generation and distribution capacity before coming to the question of pricing.
According to NLC, it would be illogical and totally unreasonable to charge higher tariffs when Nigerians are at the moment paying for services they are not enjoying apart from the huge hard-earned resources they expend daily on fuel to power generators.
Though the NLC has never hidden its admiration for Mallam Sanusi's populist pedigree and his engaging sense of patriotism, "we wish to caution him to carefully measure his royalty to government policy directives against the genuine and patriotic interest of majority of our people, the NLC said.
The leadership of Congress has revealed its plans to meet with Mallam Sanusi so as to engage in discussions and explore avenues that might bring about greater comprehension of the real conditions of working people which it believes will fruitfully serve the CBN in its economic and fiscal policy formulations.