"Senate is not a place of retirement benefit", Ebonyi APC Senatorial Candidate .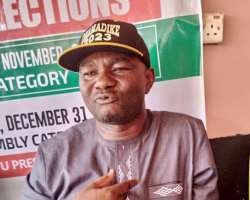 Chief Onyekachi Nwebonyi (Senatorial Candidate, Ebonyi north zone)
The All Progressive Congress, APC, Senatorial candidate for Ebonyi north zone, Chief Onyekachi Nwebonyi said he is going to the Senate to prove to people that Senate is not a place of retirement benefit but a highest decision making point of a country that requires vibrant and viable brains .
Chief Nwebonyi who made this assertion in a Media Parley organized by newsmen in Abakaliki said he will give his people effective representation and that his business in governance is to help the poor and empower the people.
He described Senate as a place for serious business and not a 'retirement benefit' for politicians who are very old and should be rewarded with senate seat.
He pointed out that one of the perennial problems that has retarded development in this country is the old people who have refused to give way for the younger ones to contribute their own quota to the development of the nation.
The Senatorial candidate pledged to partner the state government in the area of infrastructure and to influence infrastructural development for his constituency and that he will encourage the youths to come into politics.
He attributed the incessant communal crisis and boundary dispute which has claimed lives of so many people and destruction of properties of monumental value in Ebonyi north zone to lack of commitment on the part of the leaders of the zone.
Chief Nwebonyi lamented that the crisis between Ohaukwu and Agilla in Benue state has claimed over 100 lives, while others like Ishieke and Benue, Izzi, Abkaliki local government areas and Cross River state have all led to the death of so many persons whenever it occurs.
He pointed out that the primary assignment of government is to protect lives and property but a case where one is representing people and his people are being killed, the person has no duty being there.
"Senate is not a place you see as a retirement benefit to all these old men of merchants, it is the highest decision making point of the nation. After Presidency, the next place is the Senate and all these lapses we are seeing today is because there is no effective representation. They see it as retirement benefit whereas it is not so.
"It is a place you work round the clock and if you are there, you must sit up, you must work round the clock if you want to really represent your people. But because of poverty, backwardness politically, most of the electorate don't even know what to we should expect from the Senators. So, this is one of my major reasons of going there, to change the game, to show people what it is.
On the governorship and senate tickets of the APC his party that were given to his Izzi clan; Ebonyi local government and Izzi local government by the party, Nwebonyi said "Ebonyi North Zone is made up of four local government areas and you don't compare senate with the governor. Governorship seat rotates within the three zones of the state.
"The North had their slots in the person of Dr. Sam Egwu who is currently in the Senate for second term of eight years, the Central had their turn in the person of Chief Martin Elechi and of course the South is having their time in the person of Chief David Nweze Umahi and what is equity, Equity is natural justice. Equity demands that the governorship seat should start from where it started before which is Ebonyi North and when you come to Ebonyi North, Ohaukwu which is the minority has produced the governorship seat in the person of Egwu. So, it goes to say that this is the time of an Izzi man to be governor and that is at the state level.
"You come to the Senatorial seat. We have four LGAs that make up Ebonyi North senatorial zone. We have Abakaliki LG. in Abakaliki LG, we have Senator Nshii, we have Senator Polycarp Nwite, we have Senator Ngiji Ngele, three of them. We move to Izzi local government, we have Senator Andrew Nwnakwo, Senator Chris Nwankwo too. We come to Ohaukwu, we had Senator Anthony Agbo, we now have two term Senator in the person of Sam Egwu who will make eight years in the Senate by 2023.
"Now, what is the sin of Ebonyi local government? What have we done wron that all these sister local governments will have two three slots and we don't have one. So, every right thinking person should know that the Senate seat for Ebonyi North zone should go to Ebonyi local government. So, who will say that it is not our turn? It is our turn to be governor, it is the turn of Ebonyi local government to be in the Senate". ENDS