From Selling Pap To Becoming One Of The Youngest Vice Chancellors In Nigeria: The Values And Virtues Of Professor Mahfouz Adedimeji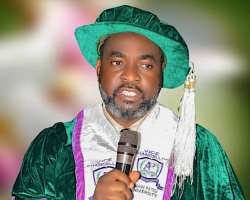 Prof. Mahfouz Adedimeji (Vice Chancellor of Ahman Pategi University, Patigi, Nigeria)
Professor Mahfouz Adedimeji is a linguistic virtuoso, scholar par excellence and administrator extraordinaire. The life and living of this gentleman who is the pioneer vice chancellor of Ahman Pategi University, Patigi, is worth simulating and emulating by anyone who desires a modest and impactful life. Like his favourite Thomas Edison's quote which says "genius is ten percent inspiration and ninety percent perspiration", Professor Mahfouz Adedimeji (MA) is the product of hard work crowned by good luck. Born into an average family that cannot be described as being rich or poor, MA hawked pap for his mother even as a secondary school student. This stress did not stop his father from making him repeat a class for coming third in his Arabic and Islamic school despite combining that with western education. Professor Adedimeji is a confirmation of the Yoruba saying that work does not kill; not working kills instead. Being the son of a renowned Islamic scholar who would not accept any excuse for mediocrity, MA grew to understand that one cannot justify laziness and its effects.
One big lesson to learn from his life is that God rewards hard work. The professor of English, Faculty of Arts, University of Ilorin who also graduated from the same department started his career as a lecturer immediately after his one-year compulsory National Youth Service Corps (NYSC) programme in Ladoke Akintola University around 2000 from where he moved to the University of Ilorin (UNILORIN). This is because it has always been his plan to be a knowledgeable person and to impart others. As an avid learner and reader, he trained at the Virtual Institute of Higher Education Pedagogy under distinguished Professor Peter Okebukola when he was the Executive Secretary of the National Universities Commission, and Virtual Institute for Higher Education in Africa under Prof J. Shabani. MA also received training at Governors State University, Illinois, and Kroc Institute for International Peace Studies, Notre Dame University, Indiana, United States of America. Professor Adedimeji was made the Director of the Centre for Peace and Strategic Studies, UNILORIN and became a professor in October 2019. He was appointed as the pioneer vice chancellor of Ahman Patigi University in the same year, 2019. His life is a testimony that God does not only call the qualified but also qualifies whoever he calls. Another important lesson to grab from this amazing personality is the fact that life and living come in turns. Having worked diligently under the former vice chancellor of UNILORIN, Prof Is-haq Oloyede, as a director and mentee, MA had gathered enough experience and exposure that help him pull through his job as a young vice chancellor even when he did not see it coming. This shows the importance of serving as a natural condition for reaching expected and unexpected heights in life. Anyone who desires to go far in life must be ready to grow under the tutelage of others.
Professor Mahfouz Adedimeji's strong reliance on God and religious commitment is another part of him that is deserving of emulation. At all times, he makes clear that he holds all he is and will become to Almighty Allah. Being a lover of peace and scholar of peace studies, he is a member of the Nigeria Inter-religious Council; a body promoting peaceful co-existence in the face of the religious diversity in Nigeria, and he has also published religious cum spiritual books that can help one live a just life and maintain a good relationship with the Almighty God. This is, of course, in addition to the several academic books and many articles published in learned journals. When asked what standard he lives by in an interview, MA remarked that goodness is a comprehensive term that describes it all. He explained that he holds on to the maxim that if one lives right and does right, everything shall be alright.
This erudite, diligent and god-fearing husband and father is a role model and national treasure. It is my prayer that Almighty Allah preserve him upon his goodness.
Ganiu Bamgbose writes from Lagos State University, Lagos.