HONOURABLE FATIMA RAJI-RASAKI: THE POLICE AND LACK OF PSYCHOLOGICAL CONNECTION AND CLEARANCE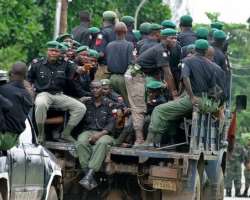 Madam, public service is all about attitude. Even when an individual is imbued with the best conditions of education, remuneration and lifestyle, if the individual's mindset and outlook to his or her work and the community they serve, is representative of negativity and indifference, then the nation is in trouble. This is what you are dealing with in regards to the current brand of police workers and officers in your midst.
This is why a candidate for any national and state security-related job should to go through an extensive battery of intellectual, personality, visual-motor and ethical testing. Thereafter, routine and periodic psychological assessment should follow on serving officers in the Nigeria Police Force (NPF) beginning with the lowest rank of constable to those at the commanding levels.
Also there are those who need to benefit from random testing and retraining depending on the test outcomes. Madam, take for example, the recent announcement of mass transfer of police personnel from the South-East to other geographical zones, following the kidnap debacle.
Of course, you can transfer the individual's body but the same mindset remains active just like it has been, and with time that mindset is equally acted upon in any new environment. Such has been the case of the Nigerian security forces including the Police, Prisons, State Security Service, and others.
Madam, there is a reason why police psychological service within the police administration is important. For decades there is no independent or fully staffed doctoral level psychological testing and readiness unit in the Nigerian police force. None!
Madam and you wonder why, just last month in Abuja, why a police officer started shooting at a bus conductor after been asked for his 30 naira bus fare. Madam, that victim could have been my or your family member!
The formation, structure and functioning of attitude require special identification through the guidance of a licensed or certified Clinical and personality psychologist. Certainly, Police personality and competency testing must not be carried out by psychiatrists as they are by law and norm mainly involved in the medical model of verbally questioning, and mentally observing a client as well assessing their need for medication.
This understanding is important as the colonial mentality of sending troubled persons to psychiatrists mostly still persist in Nigeria. As a result there is little awareness of psychology in the institutional framework of the society. And by the way, these problems include the law making bodies like yours, where mental health course of actions are hardly raised or opined upon.
While there are some like you that see attitude change as indispensable in police work, the system remains closed minded to the methodological, clinical and ethical improvement that comes from the psychological measurement of a candidate preparing for a 'life and death' job.
Madam, we are talking about persons with the power of guns, sticks and badges, which could be misused by any ill-cultured persons attracted to security agencies like the Police Force, EFCC, SSS and others.
Madam not until you and your colleagues mandates Psychological systems in the Police force as expected in the 21st century, you are wasting your free time and space.
There are a few persons that see the clear need for psychology and have come to the realization for psychological clearance, and that person is Chairman Parry Osayande of the Police Service Commission. But the apparent loosely tight communication and relationship between the essential sub systems like the Ministry of Police Affairs and the NPF remains a strain on the entire system.
There are high level psychological experts (not the recent recruitment of persons with first degree in psychology, and calling them psychologist!) who are willing to exhibit patriotic, volunteer, and altruistic-related assistance. But they are ignored. Why, that is the way it is, in a system where strict rules of coordination, of ethics and shared understanding remain absent or lacking.
Madam, the work of policing certainly is demanding and risky, therefore one want officers who have the attitudinal power to relate with the people of the community. Since an attitude of good neighborliness makes fighting crime much easier. Madam, a monthly salary of at least 35,000 naira for a psychologically prepared constable would enhance the mindset of professionalism.
Madam, a systemic talk with the Chairman Parry Osayande will inform you that prior to an applicant being accepted into a police academy either as rank and file officer or as a cadet for inspector or superintendent position just taking an aptitude test, a physical exam, meeting the federal character or meeting entry qualifications like secondary school or others are not enough.
To be accepted into a junior or senior academy a battery of evaluations conducted by a doctoral and certified clinical psychologist is paramount. The number of test administered should cover personality, drug, lie-related test and other psychological related measurements deemed essential by the psychological examiner.
A detailed historical, personal, family and work background check is important. As a criminal background check is part of the pre-employment requirement, Madam you and others at the National Assembly, should provide the resources for the technology necessary for workable fingerprinting, and for data collection and banking of a citizen's social history.
Madam, there is opportunity to advance the society towards peace and sanity, but it must start from your official end, and a cooperative relationship between the appropriate agencies will transform into the making of an officer with good attitude to security related services.
John Egbeazien Oshodi, Ph.D, DABPS, FABFE, is a practicing Forensic/Clinical Psychologist, and the Interim Associate Dean of Behavioral Science, Broward College, North Campus, Coconut Creek, Florida, [email protected]
Disclaimer:

"The views/contents expressed in this article are the sole responsibility of the author(s) and do not necessarily reflect those of The Nigerian Voice. The Nigerian Voice will not be responsible or liable for any inaccurate or incorrect statements contained in this article."
Articles by thewillnigeria.com